You didn't start your business to write. You're a service provider, startup company, or small business owner strapped for time and money. You're not a writer. So where does that leave you when presented with the job of blogging weekly for your website? For many, DIY blogging is the only option when marketing dollars are tight.
It's crucial that you blog. Doing it is not an option in this age of digital marketing.
Companies who blog receive 97% more links to their website. (Source)
Your online presence is the first (and sometimes only) impression prospective clients have of you. Before they pick up the phone to make an appointment, purchase a product online or walk through your doors, you can bet they've already Googled you. Your website can tell them a lot about your offerings and services, but what if you could reach that perspective client or customer BEFORE they knew you even existed?
Writing about the needs and pains of your clients and customers gets you found on the web. Posting weekly blogs is non-negotiable for our agency clients. Because blogging is critical to your SEO. It is the literal food for search engines. If you're not doing it, you're missing your single best opportunity for visibility.
The blog is essentially a news page on your website to attract, delight and engage site visitors. It also increases your exciting chance of getting in front of the media, who may reference your tips or expertise in their social media accounts and publications.
The key to getting found on the web and standing out from the sea of other businesses is to become a thought leader, answering the questions and problems your prospective clients are searching for and talking about the things you know best. If you've addressed that question or concern, Google will be more likely to point that user to you. And if you're writing regularly, say 600 + words once a week, your chances of being found grow exponentially.
Ready to get started?
Of course, you're not. You're not a writer and the idea of cranking out blogs once a week is giving you anxiety.
It's ok. We feel you. And we're going to equip you with the tools you need to write blogs yourself until you can invest in a professional to save you the time and trouble.
At Marketing Rival, we have a formula that our writers and clients use to blog with their target audience in mind.
Here are our seven steps you need to take to succeed as a DIY Blogger:
1. Okay the million-dollar question. What do I need to write about?
Things that only the people you make money from care about. Their pains, their problems, their obsessions. The only thing you're NOT going to write about is why you and your product or service is the best and they should buy, buy, buy. No one's going to read that. Be helpful. Offer advice. Think, would I want to read this?
Here's an example from our client Polycor. Polycor sells natural stone, but they're not selling it on their blog. Instead they're answering a question that designers and homeowners ask: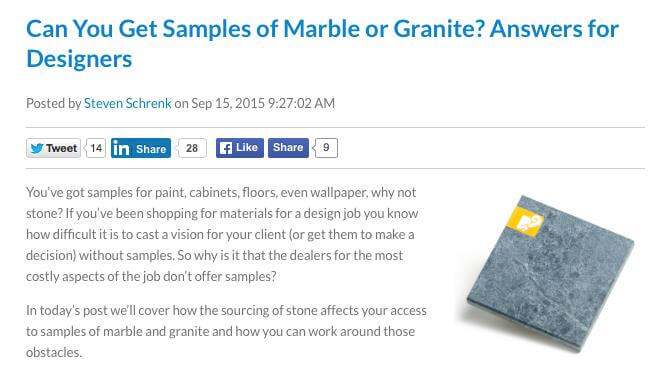 2. What if I'm not sure if an issue is worth writing about?
If you can think of an issue that matters to your client, then it's probably news worth sharing. Still not sure? Bounce the idea off some of your best customers.
3. Should my blog be in formal language?
Not unless you want to attract other people in your industry who know your speak. Identify your target audience and write for that person. If it helps, imagine you are having a one-on-one conversation with this person. Numbered lists and Q and A's (like the one you're reading right now) are great formats for blogs.
4. I'm done with my piece, but unsure about my grammar and punctuation. Is there a tool for that?
Yes. Grammarly is $11.66 a month and it helps you write mistake-free in Gmail, Facebook, WordPress, Linkedin, and anywhere else you write on the Web. Quite the bargain if it saves you from writing "crap sandwich" when you meant crab… If you prefer to work with a human being, you can also hire a professional writer/editor like Shannon here at Marketing Rival.
5. Should I add a video or image to my post?
Always. Adding a high quality, professional looking image and/or video are key to enhance your blog and be found on search. It also increases you chances of being shared on social media exponentially. The amount of video from people and brands in Facebook's News feed increased 3.6X year-over-year. (Source)
It's important when using an image that you either use an original you took (the best option!) or purchase one from a stock photo company. There are also plenty of photo sites that offer free images with attribution given. Be sure to read their copyright guidelines and abide by them. We're big fans of flickr. Never Google images and pull them off the web for your use on your blog. You can be fined some pretty hefty fees for stealing photos off the Internet. With permission, sharing is caring however.
Read our post on seo for detailed information on adding ALT Text to your blog images.
6. What platforms should I use to post my blog? (Like where does this thing live?)

That depends on how your existing website works. A blog is just another page on your website. We use both WordPress and Hubspot for our website development and blogs. They are ideal for marketers and have many templates to choose from and tutorials to guide you. If you want to create a new custom site, our team of writers, developers, and designers can assist you. No matter the platform you choose, make sure it's mobile-friendly because that's key to ensuring a good user experience on mobile devices and being found on Google.
7. Can I use my blog content for anything else?
Yes! Our motto is repurpose, repurpose, repurpose. Your blog can be promoted on social media on LinkedIn, Twitter and Facebook, where you can share it with your contacts for greater reach.
Your blog is also great email content. Constant Contact has beautiful templates that you can use, add your business branding, and send to you contacts, inviting them to visit your site and read your blog. Email is also trackable so you'll get to see who opened and clicked it, giving you a better idea of who the blog is resonating with.
You can also pitch your blog to reporters and editors. There is always a chance that your tips or knowledge may be needed for a story they are working on or spur a story idea on its own.
Real life example:
Last year I wrote a piece on how to respond to negative reviews. I used it in email and on social media where it attracted the interest of Asbury Park Press reporter Michael Diamond. He featured it in his story on the viral power of social media, which was picked up by USA Today. That's some great reach! And it all started with a simple blog aimed at helping business owners to respond appropriately to their negative reviews on Yelp, Google and Facebook. Writing about how I help my B2C clients manage their online reputation was easy because it's just one of the things I do on a normal day. Your blog posts can be easy too if you focus on sharing your expertise with your audience in a down-to-earth way.
Writing a blog isn't hard, but it isn't something you just know how to do as a business owner. There is a learning curve, which you'll see when some of your blogs draw response from your audience, but with others it's just crickets.