Choosing a major is hard. Heck, school itself can just be a challenge. But finding your passion and thinking of how you are going to apply it in real-life, aka life after graduation, is another challenge altogether.
For lucky design students, University Hall of Innovation connects them with leaders in the Furniture and Home Furnishings industries to build their design community and supporters. University Hall of Innovation is a nonprofit that doesn't just connect design students with industry partners through design challenges and the A Student's Perspective webcast, at its heart exists to help students better understand all the different opportunities and possibilities that their degree may offer. It's all about expanding horizons, says Stephen Garrison, President, University Hall of Innovation and Associate Professor of Interior Architecture at Marywood University.
"Our story is one of wanting to not pigeonhole yourself into something and being open to the kinds of possibilities and potentials of what kind of design field can do for you," said Garrison. "The students that are coming through the program, they're coming from all different backgrounds and locations. We've had interior architecture, interior design, product design, furniture designers, students from all over the place."
Garrison became involved in University Hall of innovation back in 2015 and assumed the role of President in 2018.
Between 2010 and 2019 nearly 700 design students from 15 different colleges and universities around the world took part in the original University Hall of Innovation by Design Challenge. As part of the evolution of the Challenge program, the first Design Plywood Challenge took place that same year.
"The program had legs to it already when I became president and I decided to take it into a little more general kind of place," said Garrison. "And so, we started doing a single sheet plywood challenge."
In that first challenge, students from Auburn University, Shu-Te University, the University of Minnesota, and Marywood University developed innovative home furnishings using at least 80% of a single 4'x8′ sheet of 3/4″ plywood.  
The Challenge format remains the same today and consists of two parts, each leading up to a prototype exhibition at High Point Market.  The selected schools are partnered with industry professionals —think manufacturers, designers, style influencers, and design celebrities—who provide invaluable industry insight from the first sketches through to the final scale model.  The Fall High Point Market concludes with a vote where the winners from each school are invited back to exhibit their full-size product prototypes during Spring High Point Market at the Suites at Market Square
"This is the only place at Market, consistently, where students have the ability to exhibit their work," said Garrison.
The tagline for University Hall of Innovation, 'Take Chances, Take Opportunities, Take Charge of Your Future', isn't just a slogan, it's a way of life for Garrison, and one he encourages for his students.
"If you think you can do something, reach out, try it and see what happens. When something comes in front of you, you have that decision of 'Okay, do I take the chance and see what happens or do I let it pass by me and the next person gets it.' In crafting these things, whether it's the challenges or the webcast or whatnot, I'm challenging the students to say 'Okay what am I going to do different than the 20 people that I'm with in my studio and the 20 people that are in every other studio out there,' it's going to help them craft what their lives are going to be."
That same year the program started the A Student's Perspective web series where through a partnership with the Marywood University Interior Architecture Department, University Hall of Innovation students are able to speak with designers, manufacturers, and influencers. 
Now in its fifth season, the show features conversations with a variety of members of the design community, from Shayne Fox, founder of Shayne Fox Hardware and Set Decorator and Production Designer for vampire comedy "What We Do in The Shadows" to Bryan Orthel, Phd., president of the Interior Design Educators Council Foundation, one of our favs Jaime Derringer, artist and founder of Design Milk and Clever Podcast to our own Jen Smiga, ultraviolet's founder and CEO. The pandemic put a pause on their plans—and initially trapped their recording equipment in the school—but Garrison and crew naturally rose to the challenge.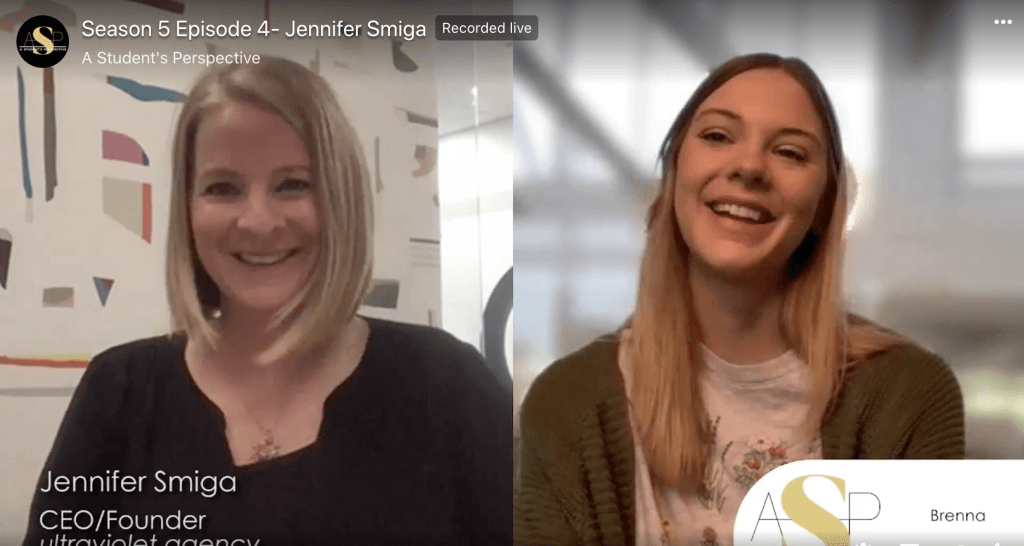 "Now we're in season five and we're still continuing that virtual reaching out across the world, and we went back to Market in October," said Garrison. "We're hoping to be able to continue that 50/50 split for season six, where we do some live interviews at Market and do some of the virtual interviews as well. Because even though virtual wasn't where we wanted it to be in the beginning, I think it's allowed us to do some different things. And connect with people in a different way."
Connection is the beating heart of University Hall of Innovation, and they are always looking for new mentors and sponsors, as the by Design Challenge program and A Student's Perspective webcast are both fully supported by industry volunteers. 
Contact Stephen Garrison at universityhallofinnovation@gmail.com to connect with the students of University Hall of Innovation.artist