You have big dreams for a gorgeous product line with your name on it. But how do you even start your own line? How do you find the right collaborators? Is this even a good idea right now for your brand? We had a lot of questions about the product licensing process, and we knew who would have the answers: David Cohen, a well-known product licensing and design expert who has been in the industry for many years.
His company, ARTISTIC DESIGN WORKS, represents a hand-selected collective of some of the most talented artists and creative brands from around the country. He recently brokered a collaboration between interior designer Rachel Moriarty and custom distressed mirror manufacturer Mirror-tique as well as Allison Eden's collection with Graphic Image Flooring which is turning her iconic mosaic patterns into custom vinyl flooring and wallcovering.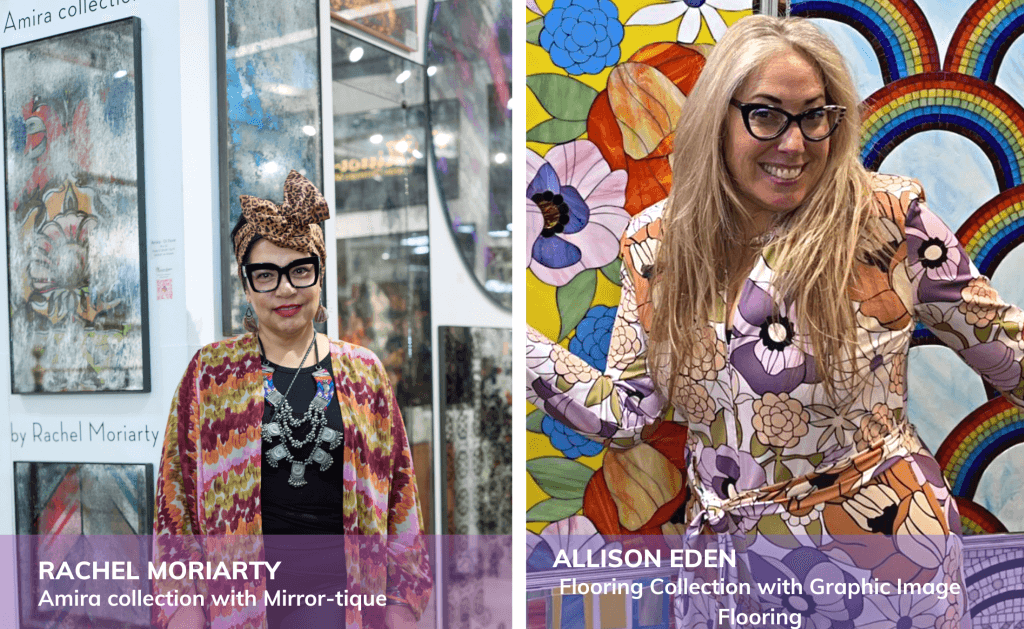 He works closely with the hospitality industry to commission or select the perfect piece of art to help create one-of-a-kind spaces for casinos, hotels, resorts, and luxury condominiums around the globe.
And according to David, the first step to a successful product licensing deal is making sure you are ready. Product licensing is a huge commitment, like opening another business. You need a lot of time and resources — creating the collection is just one piece of the licensing puzzle. The complexity of the rest of it is why having a seasoned liaison like David can help save you a lot of heartache and heartbreak down the road.
Once you're sure this is the time, finding the right collaborator and partner for the job is the most important thing you will do. He recommends attending events like High Point Market and other shows and associations, which offer the opportunity to meet potential collaborators in person and gain a better understanding of their goals and priorities.
"I think that, that in-person connection is important," said David. "It's hard to gauge these companies when you don't really have a chance to connect with them. The shows are good because you see a little personality from their booths."
Once you've identified a couple of potential manufacturing partners, vet them like it's your job, because unless you have brought on a liaison to handle it, it is. This means scrutinizing potential partners and looking for companies or individuals whose ethos aligns well with your goals. You want to be sure you and your potential licensing partner complement each other. David notes that it is important to find a collaborator whose product line has gaps that you the designer can fill. This not only ensures that the collaboration is a good fit for both parties but also increases the chances of success by offering a unique and innovative product to consumers.
"What are the designer's goals and the manufacturer's goals from the collaboration?" asks David. "And how do those goals work together? Know who are you as a product designer, what's your look, what is the manufacturer going to look at you and go 'Okay, this is what they are and what they offer.'"
David also emphasizes the importance of understanding royalty percentages and other financial aspects of product licensing. For many designers and artists, this can be a complex and unfamiliar area, so it is important to seek out expert advice and guidance when navigating these issues. The right guide will help you through the process and to the best deal.
"What I'm doing working with designers and working with artists you get the asset of having that person (who's me) go out there and do the legwork on finding the right opportunity," says David. "Vetting that opportunity, really taking a look at how the collaboration as a whole will work."
And then on top of that, once a licensing deal is in place, there are responsibilities on both sides to ensure that the collaboration is successful. When these deals are done, the product line still needs to be created. Plus, there are timelines that need to be put in place on both sides, which are just more details that need to be taken care of.
"A lot of people aren't thinking about all the aspects of what gets put into these licensing contracts," says David. "And my job overall is to help to bring it all together and help make it successful. I'm here to facilitate in any way that I can."
According to David, one of the most exciting aspects of the design industry is watching talented designers create waves and establish their own brands. He enjoys seeing designers get connected with manufacturers through product licensing deals, which can benefit both parties in several ways.
"That's the aspect that I really love," says David. "And that's what we did with like Rachel and Mirror-tique. Her visibility and the people that want to see what Rachel is up to, they are within the design industry and they're the core of the industry."
However, David stresses that product licensing is not just about putting a product out there and hoping it will be successful. Instead, it requires the right partnership and collaboration between the manufacturer and the designer, which can take time and effort to develop. Some designers are happy to have their name on a product and the visibility that comes with it, while others are more focused on finding the right partnerships and setting up the collaboration in the best possible way. But he has one piece of advice for designers in particular.
"The main thing is really just design, design, design," says David. "If you want to be a product designer, and not just like somebody who has a following and be a spokesperson and all of that, then design products."
​​Overall, product licensing is complex and multifaceted and requires careful planning, thoughtful collaboration, and an in-depth understanding of the goals and desires of everyone involved. By following the insights and advice of experts like David Cohen, designers and artists can increase their chances of success — and create innovative and exciting new products that capture the attention of consumers and industry insiders alike.