A picture is worth a thousand… words? No. Eyeballs.
If you're marketing your company online, you have mere seconds to grabs someone's attention before they go clicking away. You know the glut of content coming at you. It's the same for your customers. To stand out you need to give your audience something to really look at – on your site, on your social, in your email, on your blog. Errrywhere.
Visuals are the quickest way to grab a reader since 90 percent of the information our brains process is visual. In fact, according to HubSpot, we process images 60,000 times faster than text. Now, we're not saying words aren't important, they're our Marketing Rival bread and butter. But you have to pull your reader in ASAP, and visuals are the way to do it.
Eyetracking studies have shown that our eyes travel from the top left of a page, then move down diagonally. This means that if there's an image or visual in the top left corner, you may gain a couple more seconds to really get a reader engaged in your content. This scanning habit is true for websites and print material alike.
Pro-tip: Including properly tagged images on your site and social media is also great for SEO. Include the primary long-tail keyword (that's the phrase someone might Google to find what you're selling) in the filename of the image. Use dashes instead of underscores to separate the words. Also include it in the image ALT tag.
Choosing a visual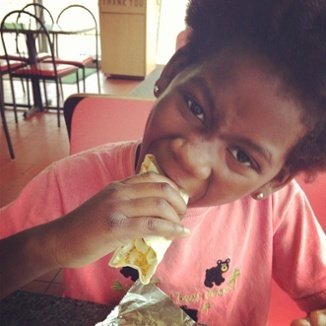 So easy a cave man could… no he couldn't, because it takes some higher thinking, a creative eye and the Internet.
If it's a photograph you're after, think about an image that really captures the point you're trying to get across, and the emotion or mood you're trying to evoke.
We used this photo in a blog entitled How to Create a Mass Email Your People Will Devour.
We don't need to explain why this photo is spot on. But damnit do I want a burrito now…
Next up, some pointers on where to get photos for your marketing, but first this –
Do not choose stock art photos like this: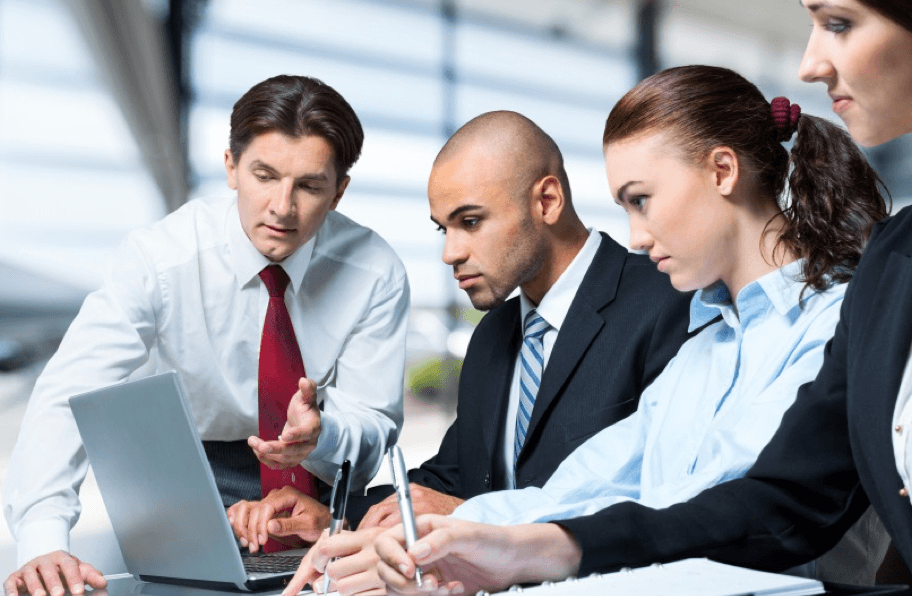 The cheese factor will kill the credibility of your post or website. Look around your office. Does anyone look or act like this?
Where do you get your images?
Do you have to take them yourself? Well, you can if you'd like, but sometimes the right photo can't be taken on the spot. That's why there's a whole slew of stock photos sites out there that can do the trick. Sites like Getty Images and iStock have free stock photos available anyone can use. Click here for more free stock image sites. (Stay away from those cheesy office people).
Another option that Shannon at Marketing Rival likes better is Flickr's Creative Commons where you can download royalty free images submitted by regular people and professional photographers alike. This yields an incredible variety of images (and quality, some are really bad, others amazing) that don't have that stock image feel. In some cases you can even modify the image for your own purpose like we did here on our last post. But always, always double check the license on the photo and give credit to photographer. You can see the photographer's name 'London looks' at bottom left. And at bottom right the symbol for attribution license, which means you can use it for whatever you want so long as you give the photographer credit. We also suggest using photos of kittens whenever possible.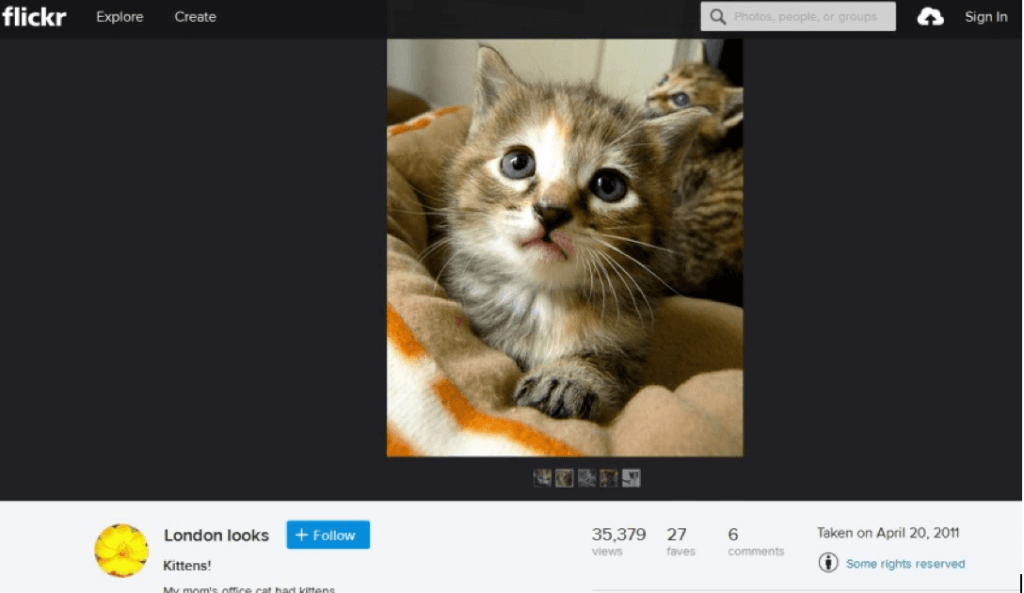 How to make your own graphics
Sixty-three percent of posts on social media include a visual, and visual content drives engagement. If yours aren't among them you risk not being noticed. Canva is a free site that allows you to create quality graphics, presentations and layouts easily. Sign up for this service and easily create social media graphics, coupons and promos.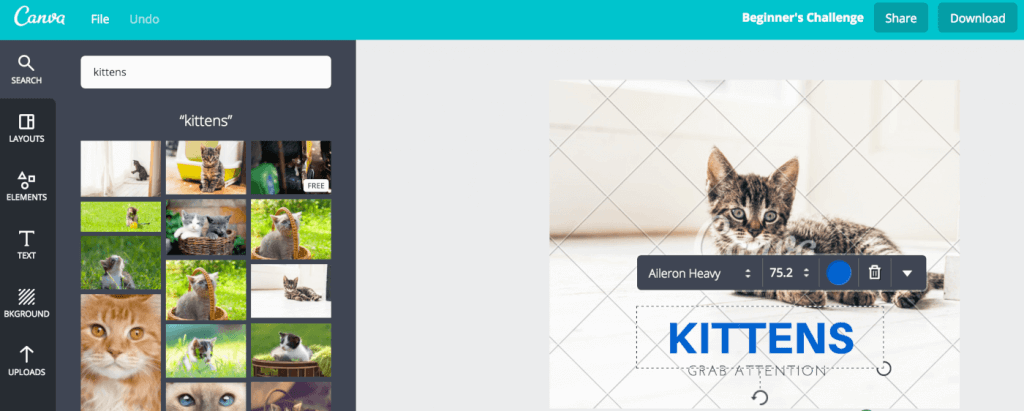 Have step-by-step instructions or something complicated to explain to your audience?
Instead of writing long, drawn out, word-by-word guidelines, try an infographic. These are visual representations of data or information presented in a quick and clear way. HubSpot tells us that businesses that use infographics increase their website traffic by 12 percent compared to those who don't.
By using an infographic to communicate information, you can grab a reader, keep a reader, and reinforce your brand, all in one image. Make sure infographics reflect your brand (colors, logos) and are shareable. This way you're increasing your brand awareness and reaching a wider audience. You're also creating a valuable resource that you can use for other marketing purposes. Don't have the design skills or tools to create infographics? Try infogr.am, Piktochart, or Visually. (If you'd like help from a graphic designer on your graphics, our designer can help you on an hourly basis. Click here to submit a question or job request.
And we haven't even talked about video.
According to Nielsen, 85 percent of people watch videos online. If you want to grab a site visitor within three seconds of landing on your site, a video is one of the best ways to do it.
We love this video from SubZero/Wolf because it grabs you instantly and perfectly captures the brand's story.
Here's another staggering fact to get you thinking about your static wordy website:
MarektingSherpa found that viewers spend 100 percent more time on pages with videos on them.
100 percent more time! Who doesn't want 100 percent more selling time to their prospective customers' time?
Pro-tip: Keep your videos short.
On your home page, a 30-second spot like SubZero's will capture your visitor. Elsewhere on the site, or on social media, a 2-3-minute video can further explain why your product or service is excellent and unique. It will give followers and strangers the information they're looking for more easily than a 15-minute article.
With smart phones becoming more and more apt at creating quality digital productions, business owners can produce videos at a low cost. Your business can even choose to allocate marketing funds toward professional videos. Our clients have had success with these in establishing themselves as leaders in their markets. Here's one of our favorites by local photographer Ryan Struck.
Videos are easy to upload, share, and recycle for other marketing promotions and brand awareness. YouTube provides a solid platform to upload videos and even editing software to make sure you're creating a quality product.
So give your people what they're looking for, literally — beautiful, engaging, storytelling images. You'll see how it will help you grab and keep your audience's attention, and expand your reach to new audiences looking for your services.
Photo by Flood G.