Hop in the car kids, because today we're heading to Boston to learn how one startup made it stupid easy for followers to give them free press (and how your company can do it too).
We're talking about how to reengage your dormant contact database with email, the most underrated social media engagement tool.
Let's dig in.
At some point in your marketing efforts you realized it was important to gather email addresses from visitors, maybe to deliver company news or perhaps your blog. Maybe you're even gathering them for lead tracking and nurturing (high five!).
You've amassed a fat, juicy list of contacts. Fantastic. But if you don't use it to connect with those people socially, you are missing an opportunity.
Today I'm going to show you how Grove Labs, a Boston-based startup uses email get its supporters to promote it on social media.
First, a little about Grove Labs. The company, founded by two then MIT students developed an in-house aquaponic growing system powered by a mobile operating system that enables people like you and me to grow organic kale with LED lighting and fish poop. I know. Amazing. A little icky. You totally want to try it. You can learn more here in this 3-minute video.
Now a little about me. I'm fan and follower of the company, though I don't yet own the product, which is still only in the homes of early adopters in Boston. It's also a little out of my reach financially as all my money is going to build a home that could one day house a Grove ecosystem. And that's important to note because: Even though Grove has yet to make a dime off me, I promote them on social media, liking and sharing their news and giving shout outs when I'm doing organicy garden things. All my friends know what the Grove system is. (I posted the above photo on Facebook last year. Does this kale make me look organic?)
Recently the company launched a Kickstarter campaign to take the product nationwide. The results were over-the-top with the campaign more than tripling its $100,000 goal – and the campaign isn't over for 20 more days. Instead of just sending a nice "We did it! Thank you!" email, those Grovers, powered by organic super foods probably, did something very different.
They asked their contacts for more.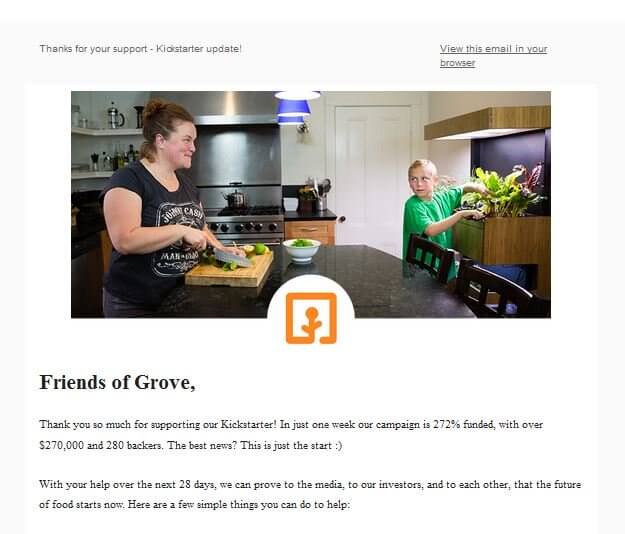 "With your help over the next 28 days," Grove said, "we can prove to the media, to our investors, and to each other, that the future of food starts now. Here are a few things you can do to help:"
I've broken up and enlarged Grove's beautiful markeing email to show you why each point is so effective and how you can apply it to your business (especially if you're a startup or are using crowdfunding).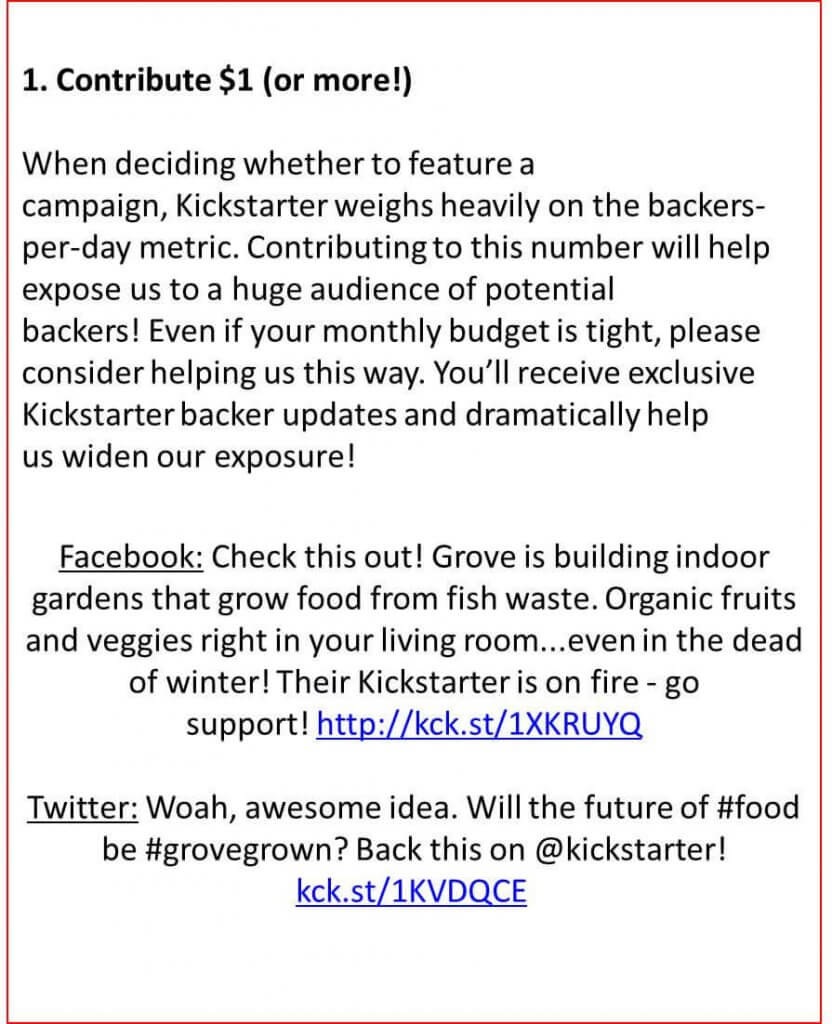 Did it work?
A week later Emily Malkin, spokesperson for the company said, "Since sending that email we have 59 new backers, 11 of which were $1 contributions, and 21 of which were $10 contributions."
That's $221 of their $323,886 raised so far. A pittance if it's only dollars you're after, but clearly from the tiny ask, it wasn't.
"The point of the email was first to excite and inspire confidence based on our success so far, and secondly to provide immediate and easy action items for the segment of our community that is excited to contribute but can't commit to the investment of a full Ecosystem," Malkin said. "Remembering to include our entire community as we move forward is extremely important – we are starting a movement and everyone counts!"
BTW, I have updated that al totnumber raised three times in the last day. Something is working up there in Boston.
Next Grove asked supporters to leverage their networks on its behalf. And, as I said in the beginning, they made it stupid easy for supports to share by giving them the message to share.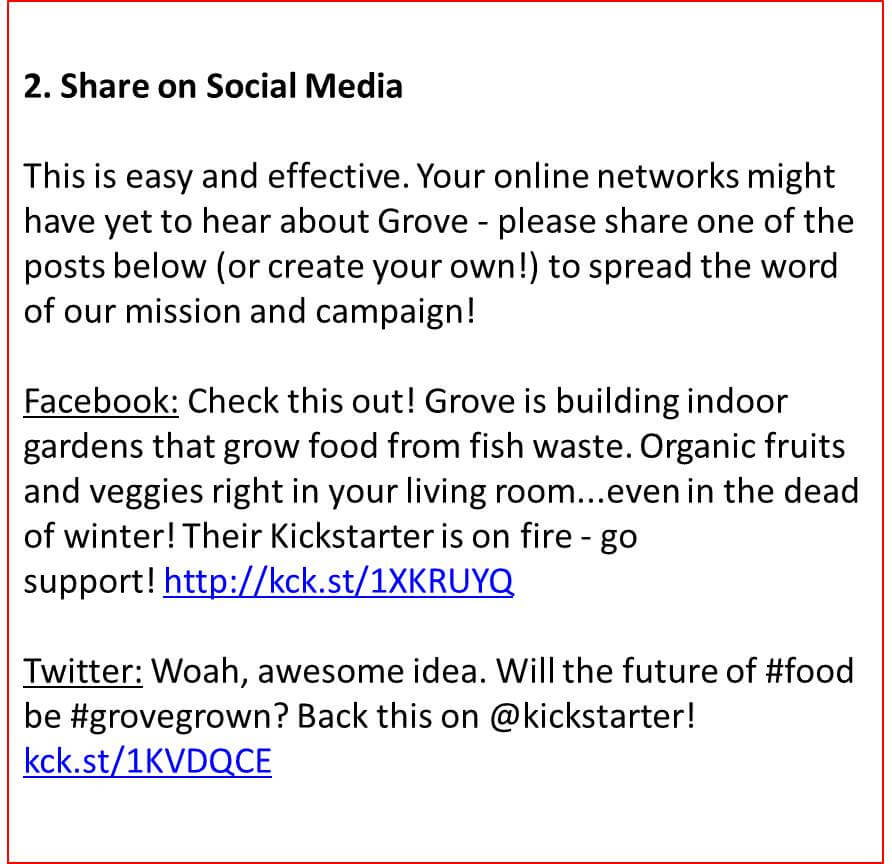 If just one supporter shared that message on social media with a few hundred friends or followers the potential for exposure is huge, like compounding interest.
Bonus: They controlled their brand messaging. I'm telling you, those leafy green eaters are onto something.
Next they asked for feedback – the simplest way to get buy-in and market research.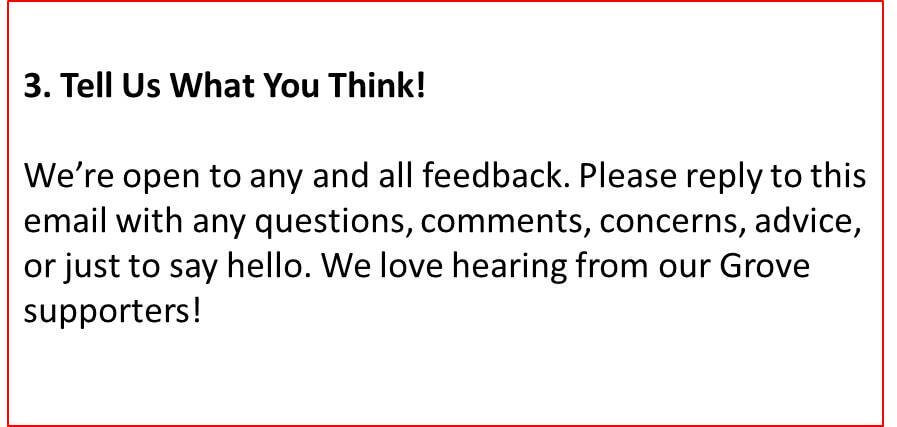 If your clients, customers, users, are anything like me, they looove to tell you what they think about your product or service including obstacles to purchasing that they encounter.
Point four in their email is more of that social media love they asked for in point two. Since you're already on Twitter….might as well.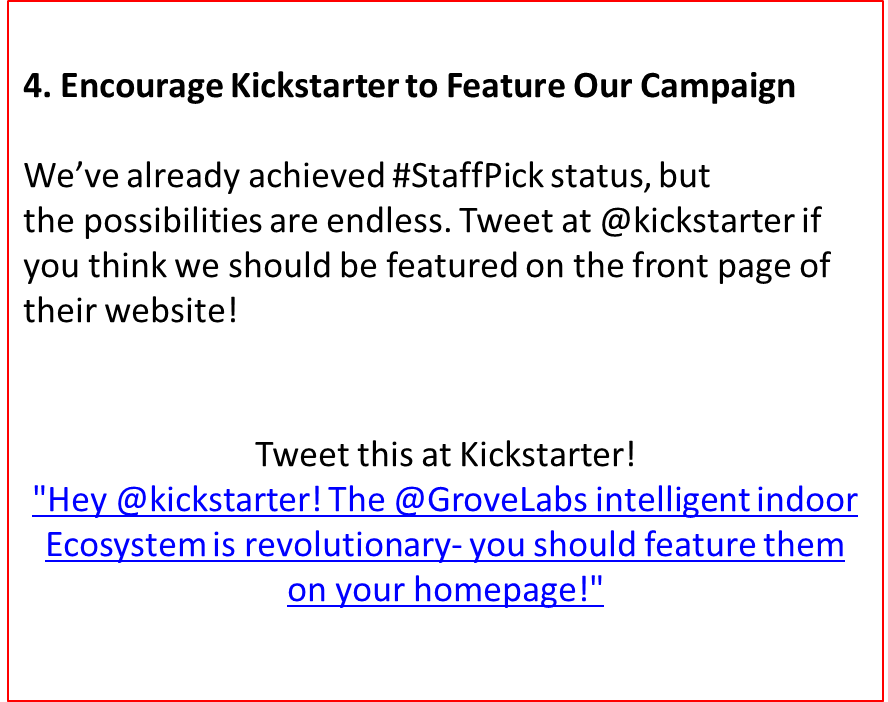 Finally, they gave supporters, who have probably been loving them from afar on the web, a chance to see and touch their product (and perhaps the founders) in actual life. Seeing the calendar of live events across the country gets the contact excited (OMG, they're coming to Brooklyn!) and gives her a sense that the brand is now, as Malkin said, a movement. And oh look, there is a clear call-to-action to register.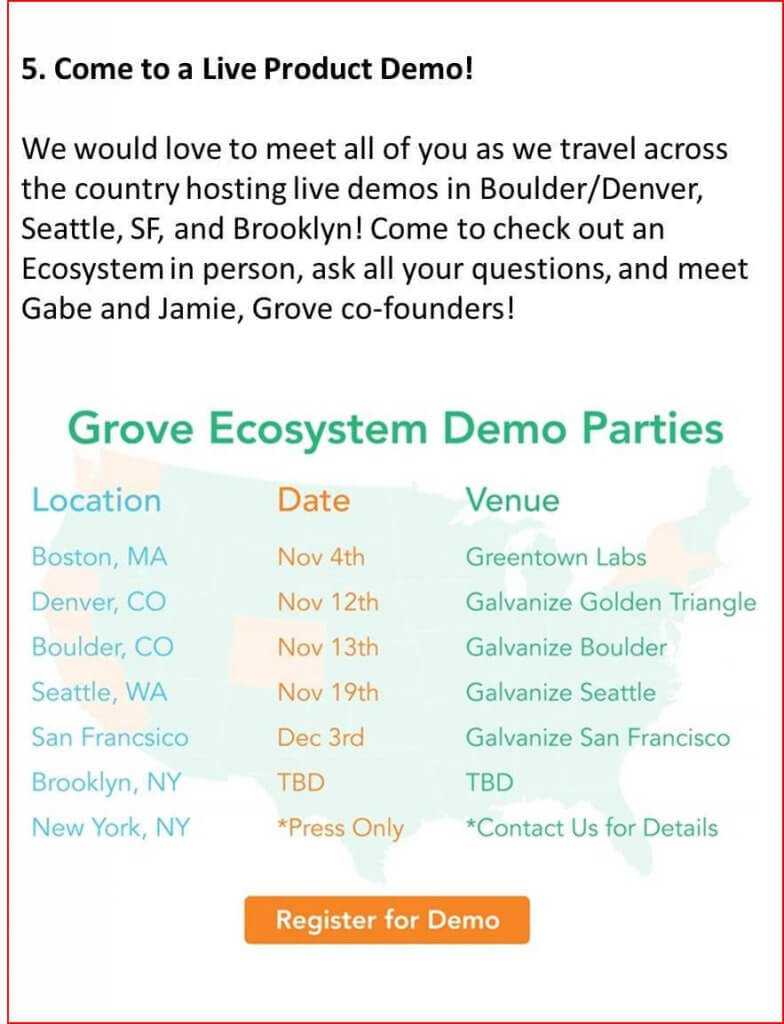 Emily at Grove, who sent the message, gave her contacts, not one but five, chances to engage with her company. (More here on who should send your company's emails.) She also increased her chances of engagement by removing obstacles and objections:
I don't have any money to give – Just give a dollar and get updates!
I don't have time to compose a social message – Here, use this one!
Wait, where do I register? – Right here on this shiny orange button!
If your company is relying on Facebook generated requests like Marketer Maggie invited you to like a page: Sprockets Are Us, you are missing the most direct, personal and actionable channel for social media engagement. Instead of using your email marketing for newsletters, billing or blog delivery only use it to leverage your best asset: your supporters' social media influence.