The holidays are here—finally. Saying it's been quite the year would be the understatement of the year. And we love the holidays so much under normal circumstances—Christmas movies, staying in pjs all day, cookies—what's not to love, honestly? And these less-than-normal times have us extra excited for the holiday season. We say, if things are going to be different, they should be the good kind of different.
Of all the things that make the season special, we have a soft spot (for obvious reasons) for holiday decorating. Wreaths, stockings, and Christmas trees help make this the merriest season of all.
We love how so many designers and bloggers have gone big with their décor this holiday. From traditional colors to muted whites to rainbow hues, take a look at how some of our friends have put their own special twist on the holidays this year. They inspired us, and we hope they inspire you, too!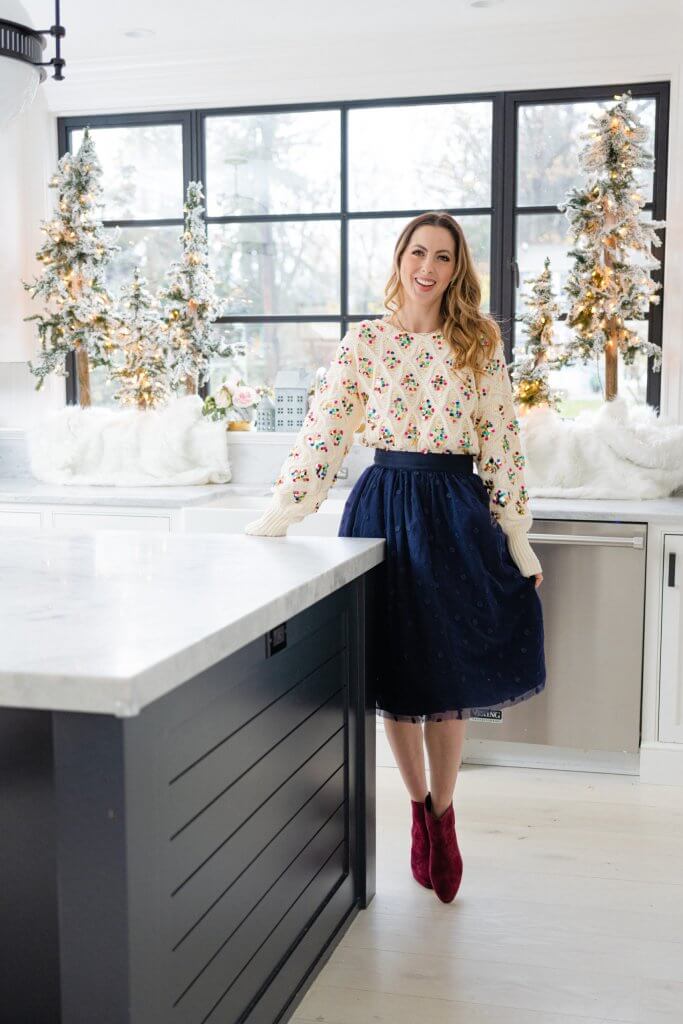 A Winter Wonderland
Mom, actress, entrepreneur, and Happily Eva After blogger Eva Amurri decided to go all out with her Christmas décor this year. She always has a festive vibe, but since hosting and attending holiday parties are out, she is going the extra mile to give her kids something special in this crazy year. She decorated the outside (for the first time!), using a red, white, and black theme to go with her historic home's classic feel. while inside she kept a lot of the same décor concepts as previous years but with new touches.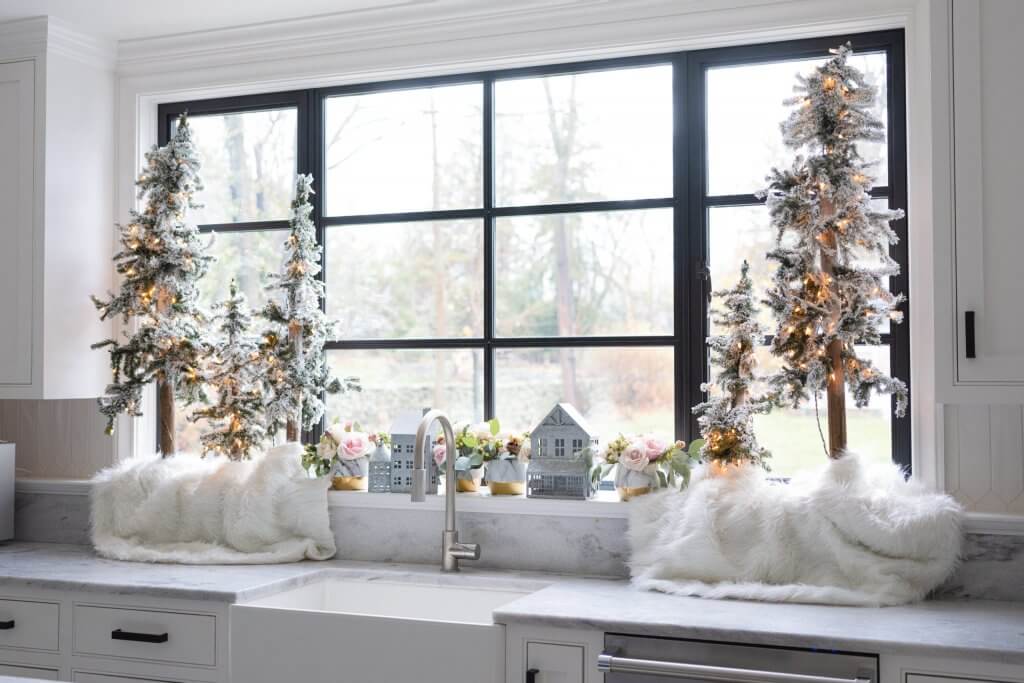 A dreamy, wintry wonderland now lives on her White Cherokee marble kitchen countertops. Flocked trees and twinkle lights are the newest addition to the snowy scene, where a nostalgic tin town has taken up residence. She's added even more trees throughout the house, including fun multicolored glass trees in her kids' playroom and brush trees on a tray in the living room. The overall feel is wistful, effortless, and so Eva!
Eva's photos: Julia D'Agostino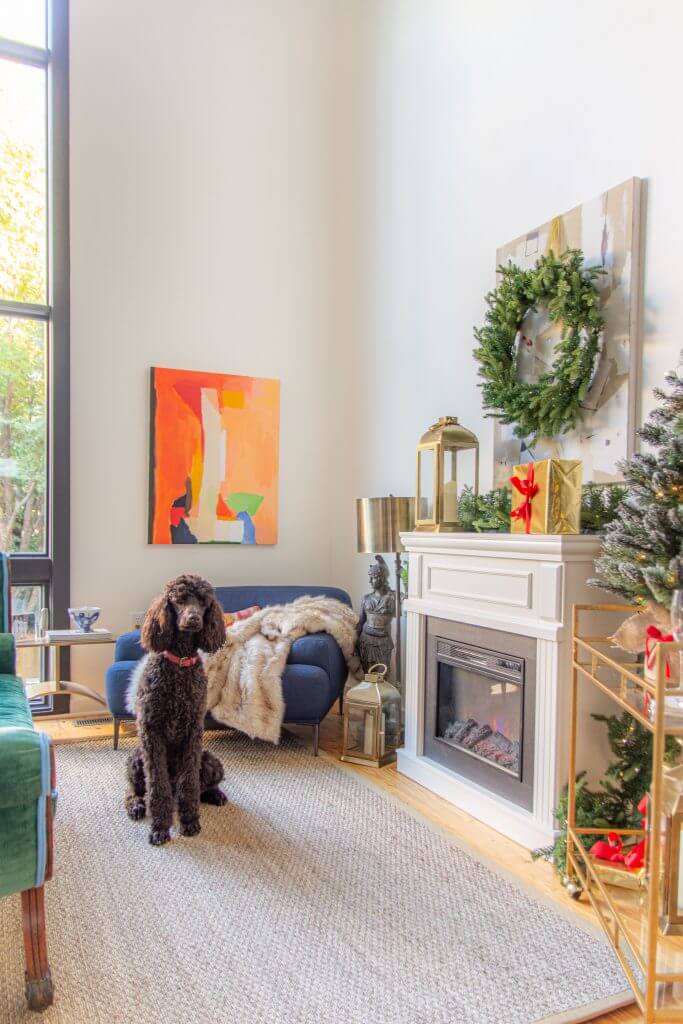 Festive Fireplace
Kevin O'Gara, founder of Thou Swell, an Atlanta lifestyle and interior design blog, was going for a cozy, classic vibe with his holiday décor. And nothing says cozy quite like a fireplace. Since the living room in the townhouse he is remodeling doesn't have one, he brought in an electric model—it serves as both as an architectural element and a way to add literal warmth to the space.
And the mantle of the fireplace gave Kevin a new surface for creating a Christmas vignette. For a simple, elegant look he used a light-up pine garland and a classic lantern with flameless pillar candle. He added another surface to the fireplace's side – a glam gold bar cart. The versatile piece features more lanterns and a small light-up flocked pine tree on it for now, and is perfect for easy entertaining later.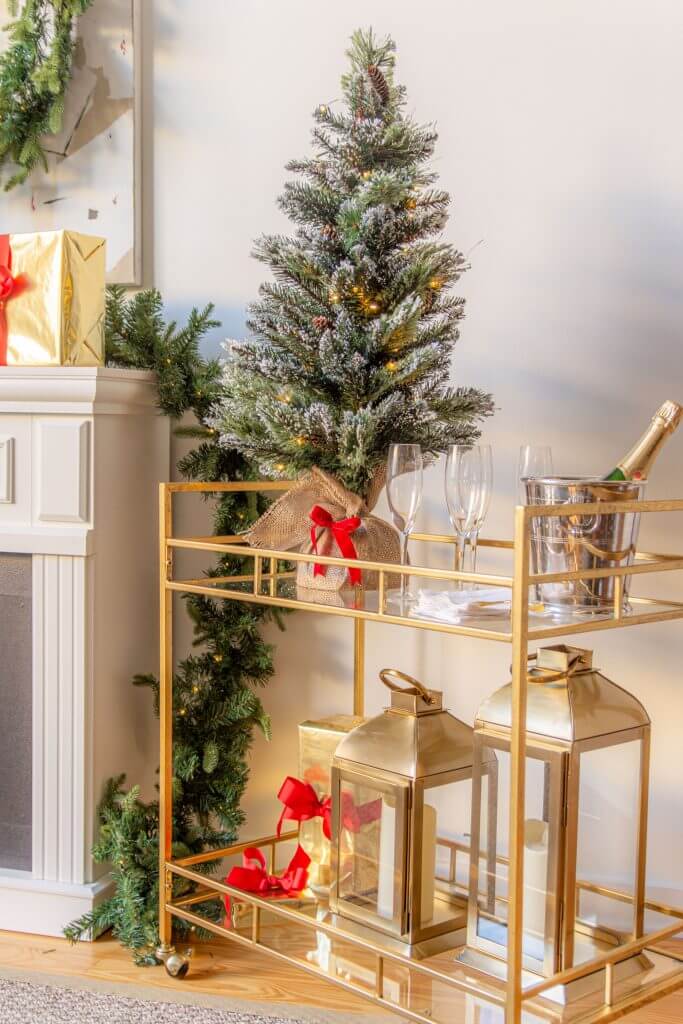 Whimsical & Vintage
It's a Christmas full of whimsy and color for the owner and interior designer of Au Petit Salon Ginny Stalker. Ginny has multiple trees this year, one where their family heirloom ornaments hang and the one Santa will visit, and the other, a faux noble fir tree decorated with vintage velvet fruit, tassels, warm toned ornaments and pink ball string lights. She found the vintage velvet fruit at a thrift store last January, the tassels are either vintage or from SmithHönig, and the LED pink lights are—along with the tree itself—from Terrain.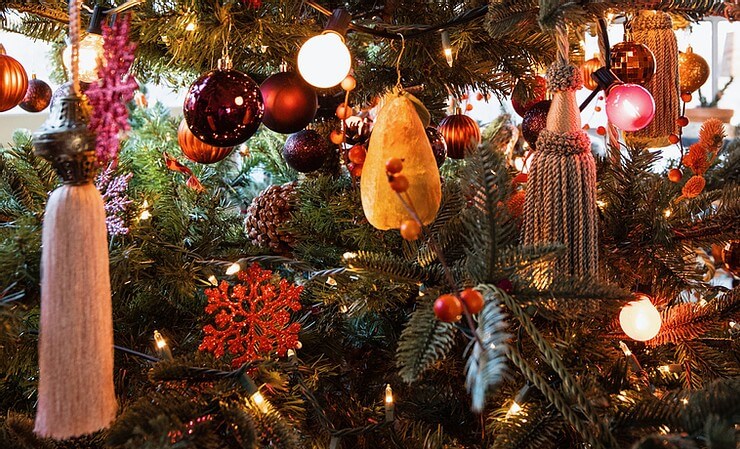 This vintage whimsy themed tree has a deep warm tone color scheme, with orange, fuchsia and burgundy shatterproof baubles, and a smattering of red and pink glittery snowflakes. The last touch she added was her signature go-to—a nature-inspired piece, in this case pinecones. She buried them deep in the tree, both for a visual surprise and to also hide some of wires that connect the branches to the base. So smart!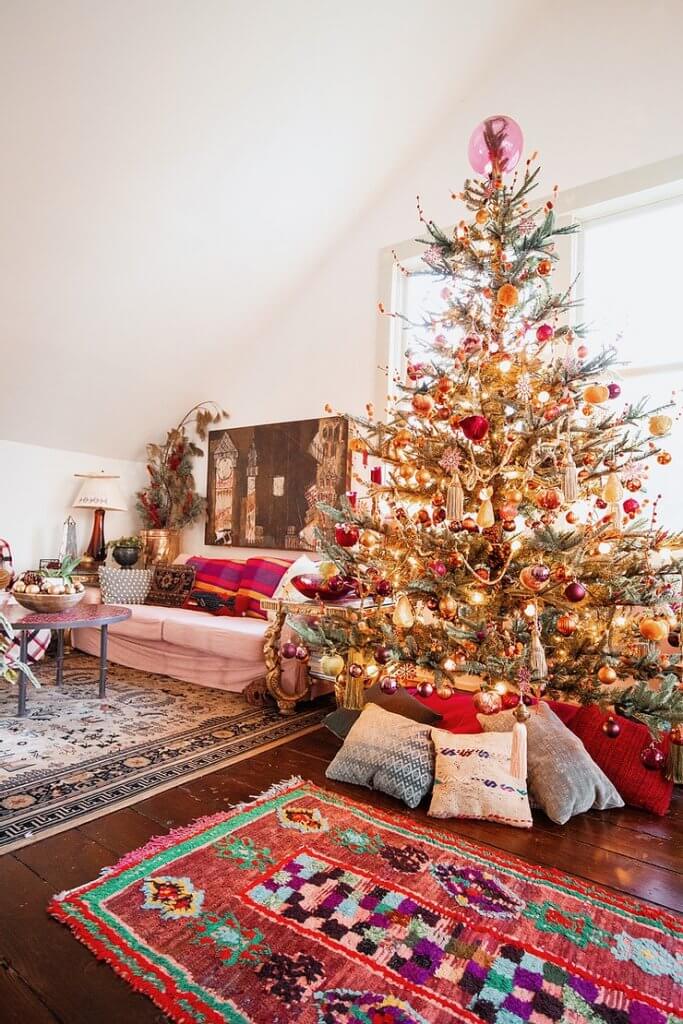 Cozy Kitchen
Every winter Sarah Gibson creator of Room for Tuesday, spends most of her time in the kitchen. Sometimes cooking and often baking batches of her grandmother's famous sugar cookies. This year is no different—food and tradition are at the center of what she does, so she has again made her kitchen just as Christmassy as the rest of the house.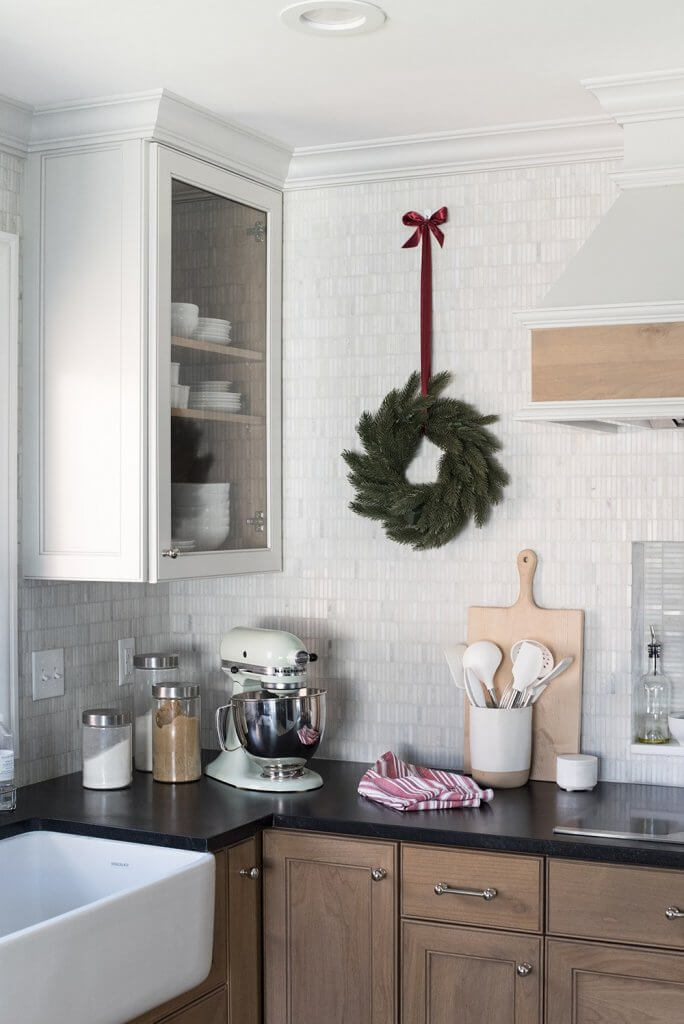 From a decorative standpoint, it's the same as last year with her favorite long pine needle garland over the two kitchen windows. (Psst, wanna know her secret for hanging the garland? Non-damaging Command hooks!) In addition to the garland, she added textiles and small decor items to create an elevated but festive vibe, including a topiary on the counter and a couple of fresh kitchen towels. She's also added a new oversized serving board made of black Acacia wood.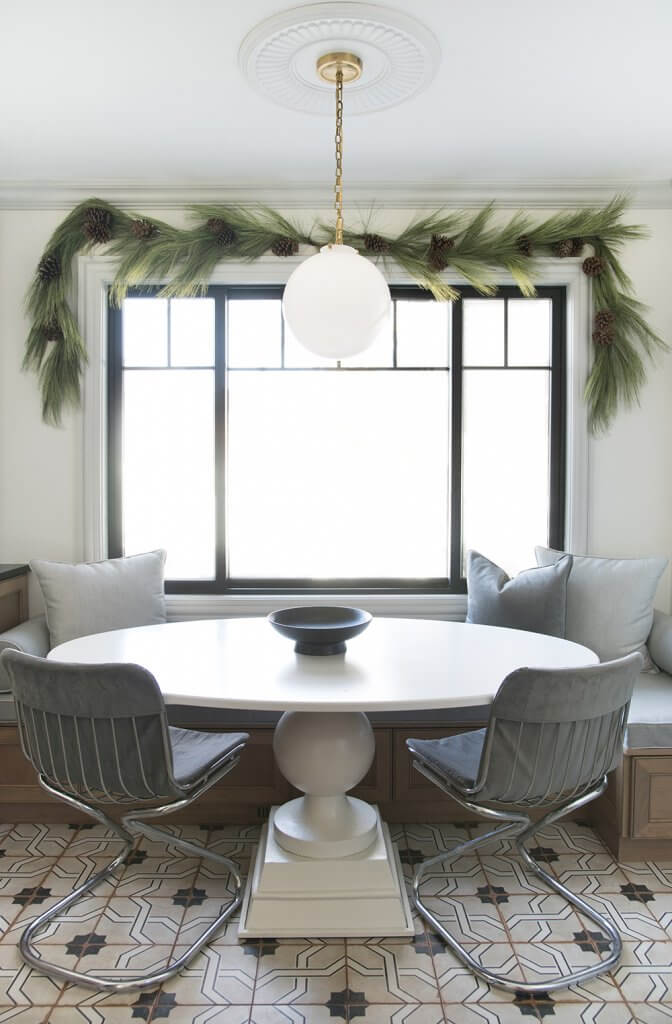 Cabin Chic
Moving from a small house where she could barely squeeze in a Christmas tree to a 2,000 square foot house with 15′ ceilings inspired Seattle-based blogger and stylist Joanna Hawley to create an indoor Christmas tree forest. She used 3 trees in a way that would fill a nook beside her open staircase. While cohesive, each tree still stands out and feels unique. Two of them are pre-lit, but the one that doesn't features star-shaped lights to make it feel special but not too bright.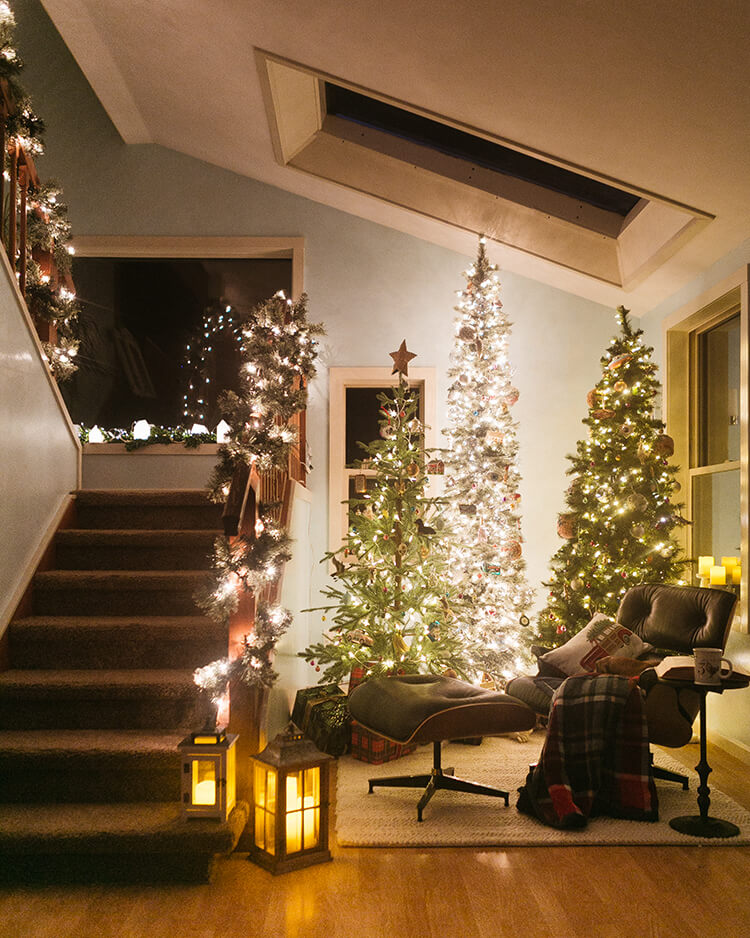 From there, she piled on the glass ornaments that she's collected over the years. From chickens to camping to Pop Tarts, there's no theme other than being a mix of her interests. Rustic, faux candle-filled lanterns, a lounge chair and cozy blankets and pillows make this a sweet space—for people and dogs alike!—to curl up and relax.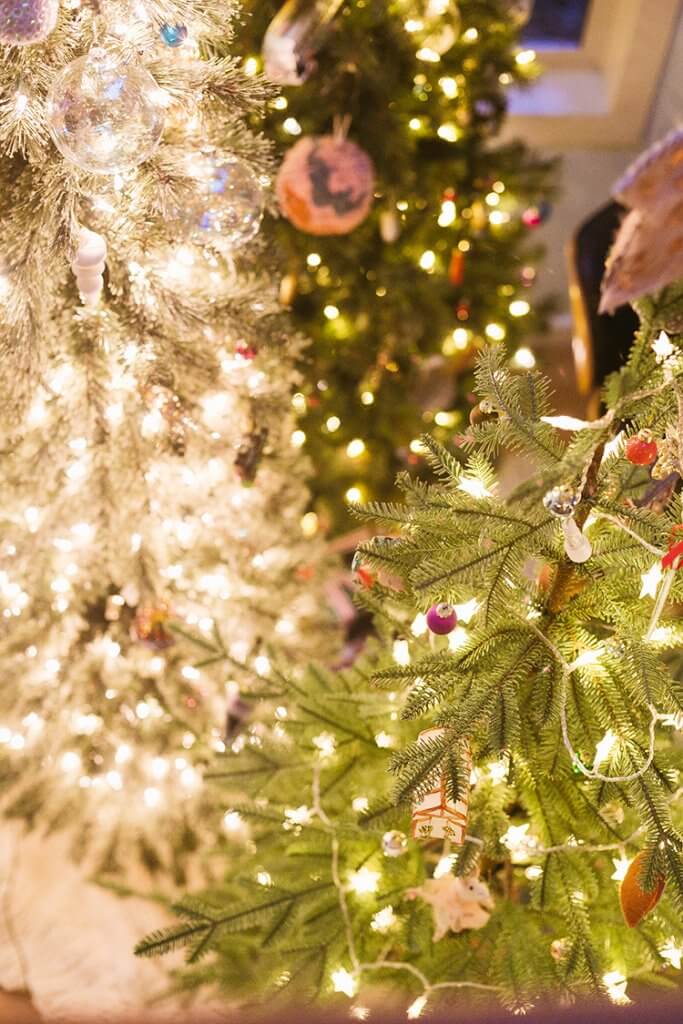 We hope these talented people and beautiful spaces inspire you to add merry and bright to your home as much as they inspired us.
Wishing you a very special holiday from team ultraviolet!
Don't wait another year to tell your story and share your projects.