Imagine this scenario: You're scrolling down your Instagram feed, when you suddenly see a partnership announcement between your favorite brand and a brand you've never heard of. Out of curiosity, you click through to the other brand's Instagram profile and realize that this brand has similar style or values to the brand you love. Instant follow!
In an increasingly crowded and competitive marketplace, we see brands from different industries coming together to create incredible campaigns, and moving beyond traditional strategies. In fact, some of the most iconic brand collaborations have been the result of unexpected partnerships.
Partnerships have quickly become one of the most popular strategies used to promote a business and increase brand equity. Research from advisory company Forrester shows that with 75% of world trade flowing indirectly, channels, partnerships and alliances have become increasingly important.
Let's take a closer look at three of our favorite recent pairings and learn what made these collaborations so successful.
Grand Hyatt Kuala Lumpur x Melinda Looi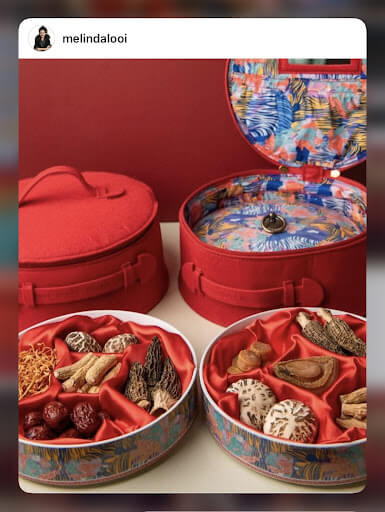 The luxurious 5-star Grand Hyatt Kuala Lumpur and Malaysian fashion designer Melinda Looi teamed up for an exclusive collaboration of the iconic Mid-Autumn Festival.
The partnership between the two brands featured a collection of porcelain gift boxes containing the hotel's original mooncakes. Instead of the usual mooncake box, the gift box featured a packaging design depicting 'The Great Gambit' including a cutting-edge chess set and rabbit-shaped tote bag as a reminder of the Jade Rabbit from Mid-Autumn folklore.
This collaboration's exclusive mid-autumn series was created with the dual benefit of being reusable and serving as a classic home décor. Undoubtedly, what makes this partnership special is the fact that both brands created a more creative and striking contact with their audience during the celebration, through the fusion of products that characterize them. In addition, they created a product with so much detail, turning something as ephemeral as mooncakes into an experience that can last as long as its owner cares for it.
SMEG x Dolce & Gabbana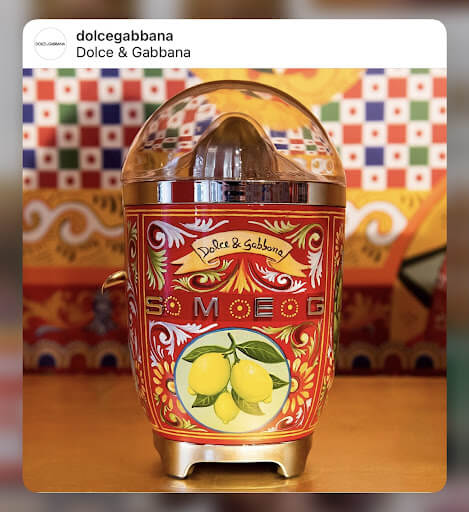 A partnership that is still alive even after more than 3 years of its beginning. The collaboration between luxury brand Dolce & Gabbana and home appliance company SMEG began with the creation of hand-painted refrigerators for the 'Salone del Mobile' furniture fair in Milan.
What started as a launch of 100 FAB28 edition refrigerators is now a full line of small appliances under the name 'Sicily Is My Love', and highlights each brand's specialty in audacious and design-forward products that maintain a high level of functionality.
Pairing SMEG, known for high quality appliances, and Dolce & Gabbana, known for instantly identifiable Italian design, was an effortless way to appeal to two design-savvy, luxury customer bases. Not only is the appliance industry a highly competitive market, both brands manage to reinvent a commonplace product into an enticing experience.
Dean Davidson x BK Beauty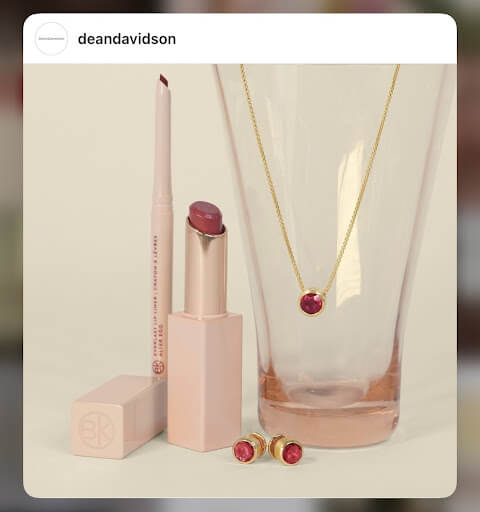 Digital beauty brand BK Beauty and Canadian jewelry designer Dean Davidson came together in a Valentine's Day-themed partnership that radiates love. Offered as a gift with a purchase from the Dean Davidson Cranberry Quartz collection, BK Beauty offered a free lipstick and lip liner to the first 50 orders.
The partnership between an established brand like Dean Davidson, a celebrity favorite, and BK Beauty, an emerging indie beauty brand, is an advantageous collaboration for both brands. Not only do these brands share established relationships with influencers on YouTube, but the audiences of these creators, whether from fashion or beauty, have very similar demographics.
These unexpected brand partnerships can take place between brands of any size, and happen in many creative ways. Although the most common partnerships involve product collaboration, brands are beginning to explore other ways to attract new audiences through content collaborations, giveaways, sponsored newsletters, Instagram Story takeovers, and many more creative ideas.
Companies that successfully execute these types of partnerships use data to inform their decisions and are open to taking calculated risks. With so many indie brands, startups, and DTC brands launching every week, it's important for brands to align with companies that share similar values in addition to similar audience demographics.
A successful brand collaboration requires that:
The end result creates value for both the audience and the brands involved.
The objectives of the brands involved, although not identical, are complementary.
The strategy is created based on clear metrics and balanced management.
When attracting authentic and profitable brand partnerships for your company, be sure to keep the examples above in mind, and at ultraviolet we look forward to continuing to see and share these winning cross-marketing ideas with you.