How do you tell if a keyword you'd like to use is too difficult to get you ranked on the first page of a search?
With a keen understanding of your brand and a little keyword research that you can do in a matter of minutes. Today we'll help you determine which words are a good fit for your business' ideal customer and which hit the sweet spot on the difficulty rating.
Ideally, you want a word with relatively low competition but a high search volume. This can be a tricky balance if you sell something seemingly common like wallpaper or something obscure like six fingered gloves.

Let's see how this plays out for a boutique brand trying to stake it's claim in a larger market.
Say you are Barn Light Electric, a small American lighting company out of Florida specializing in handmade vintage style fixtures. The most obvious keyword for them is "lighting." On it's own, "lighting" has 74,000 monthly searches and a difficulty score of 85. Ouch. How is a small brand going to stand out in that sea? Maybe with a long-tail keyword phrase with a more specific focus, like "vintage lighting," which still has a high search volume of 3,600 but a difficulty of only 50.
Long-tail keywords are longer phrases specific to your company or your industry. And they're easier to rank for than general terms like "light fixtures." They have less competition, meaning the field is less cluttered and not many companies are using that specific keyword in their focus. They are also more relevant to your niche.
If you have a hard time coming up with long-tail keywords, lean on your brand positioning.
Your unique brand position targets markets that are the right fit for your product and services. You know what your customers want and what they need, which is ultimately what they end up searching for. Use keywords that your target audience will be searching for online. If you don't, you'll end up targeting the wrong audience. You need the right keywords to drive the right audiences to your website.
Consistency in your language on your website will help you rank for keywords that you use repeatedly in your content.
Back to Barn Light.
There are few options for customers who want stylish vintage looking lights made in America. Most lights available at box stores and online retailers are made in China. The construction and quality are hard to verify and the styles are, more often than not, generic.
Those Barn Lighters show off their keyword skills all over their website and social media, and especially in their blog, where they often feature customer stories. Here's an excerpt from one about customer updating his farmhouse with vintage modern fixtures.
"Ken says he got lucky when he googled porcelain barn lights and found that Barn Light Electric is the only company in America still manufacturing porcelain lighting the old-fashioned way — by hand spinning commercial-grade steel then coating it with four layers of porcelain enamel glass. The fixtures are baked in a special oven to seal the glass to the shade with a high-gloss finish that will never fade or corrode."
Barn Light is clear on the value of organic search (the guy was Googling porcelain barn lights) and the value of peppering their content with their positioning in a natural way "the only company in America still manufacturing porcelain lighting the old-fashioned way."
Now how can you be like Barn Light Electric?
Here's how we determined keyword difficulty in this post:
We used the Keyword Planner in Hubspot, the all-in-one marketing platform we use for ourselves and clients. The tool uses a score of 0-100 to estimate how difficult it is to reach the front page of a search for a keyword. The higher the score, the higher the difficulty level to rank for that keyword. HubSpot recommends aiming for a score lower than 50 for each keyword. This means you'll be using a specific word phrase that is less competitive, making it easier for you to rank higher. Keyword Planner tells you how many people are searching for a specific keyword, because if no one is searching it, it's useless to you.
In just a couple minutes, we had the data on seven long-tail keywords related to lighting, all of which Barn Light is using on their site. Even where search volume is lower, say at 1,000 a month or even 50 a month, Barn Light is still in a good position to rank high based on the lower difficulty and their great marketing. Yes the pool of searchers is smaller, but their offering is specifically tailored to their target audience – consumers who want American-made porcelain fixtures with a vintage modern look.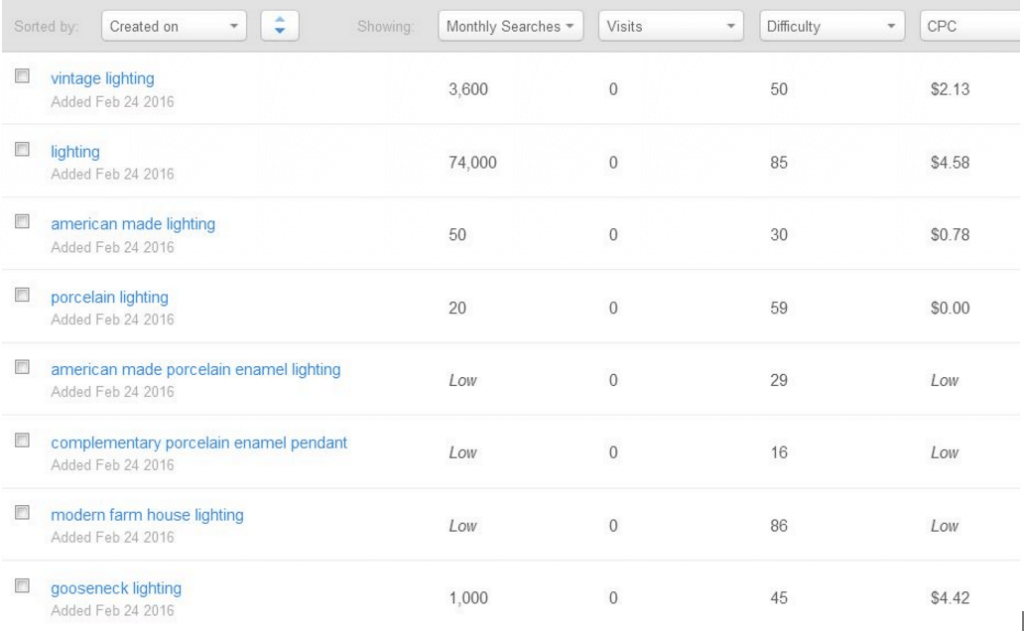 Determining keyword difficulty will help you focus your efforts on the keywords you can actually rank for and improve your chances of attracting customers and clients who are searching for your specific product service or feature. You're getting a better quality lead because this person is clear on what she's looking for.
Other keyword tools available: Moz, Google Keyword Planner
Moz gives you the top 10 rankings for any keyword, then assigns a difficulty score based on pages that are already ranking for that word. You can even view your competitor's metrics to see when a competitor is ready to be bumped out of a top search.
To use Google Keyword Planner, you have to be using Google Adwords. But if you are, it gives you added perks of helping budget your ad campaigns with competitive bids and keywords associated with your campaign.
Whatever tool you use, take some time to zero in on your ideal customer and what their search criteria might be. Use your brand positioning to inform you on the unique qualities of the product or service you offer. Then translate that to increasingly more specific keyword phrases. Choose one phrase and some supporting keywords (you can't NOT mention lighting if that's what you're selling) and design your content around that single topic.
One focused, well-written blog about a customer problem solved will help you rank on Google and nurture your buyers. In our example, a guy with an old farmhouse that needed an authentic replacement for its green gooseneck exterior fixture, was a succinct way to tell the company's positioning and value without sounding like an ad, or wasting energy on a too general and too difficult keyword.
Product designers can take their content marketing a step further by pitching their latest piece of content to a design blogger who fits their style match.
The relationships you build with design bloggers with industry clout could be pivotal for your company. When your brand or product appears on their news feeds they lend you their credibility and audience. That can mean new markets, collaborations, and sales. If you're already doing a great job writing keyword optimized blogs for your company you're in a great position for a pitch. Use the bones of your latest blog featuring your product (or the problem it solves) to craft a personal email pitch to an blogger who is an influencer in say, retro modern design.
If you take time to include timely, relevant information and high resolution photos you could be her next feature, and her audience's new favorite design product. You can get started on your first blogger pitch today. Download our free template.
Featured Image Credit: Emily May