High Point Market, the twice-yearly furniture and design event that takes North Carolina by storm, just had its first nearly normal occurrence after a two-year period of pandemic pivots. But as we all continued to evolve our online abilities during that time, we wondered – do we still need High Point? How is it different from Las Vegas? Does going to market still matter? Rather than just sit and ponder these questions, looking at the night sky for answers, we asked our PR expert – and market frequent flyer – Mary Leigh Howell for her insights.
Mary Leigh is an independent PR consultant to the home, garden, and interiors industry with more than 25 years of experience helping brands and designers tell their story, attending nearly 50 High Point Markets plus the occasional stops at the Atlanta, Dallas, Las Vegas and Chicago shows. And she thinks High Point Market is *the* must-see event in décor and home furnishings.
"I've been doing this market for 25 years. And I love it," she said. "It's not an easy market by any means — to come to, to put on, to work within. It's evolved over time and changed and grown a lot. But I love it as much today as I did the first time I went. Maybe even more now."
Why? High Point is not just the largest home furnishing trade show in the world, it's an experience. There's energy and excitement at market that no amount of online viewing can replace. Think of it like this: It's like working in the fashion industry and being in the Fashion Week tents, mingling with your industry friends and taking a seat to watch famous models strutting down a runway, versus watching that same show live online. Is watching it online amazing? Absolutely! But you aren't going to have the same immersion in the design world from home that you would from your front row seat.
"I know I'm supposed to say the people are my favorite part of market, and they are, however, I am such a sucker for a beautiful product," she said. "Getting to see everything that's coming out new and beautiful is just addictive."
And High Point showrooms give you access to beautiful products in a real, tactile way that no amount of photographs and digital spaces can. And you don't get the chance to develop and deepen your connections with those other people in the industry – something that is increasingly important, no matter your role – if you aren't there.
"A lot of people call it 'old home week,' because they go twice a year and they're like family," said Mary Leigh. "I certainly know more people in the industry than I do in my own hometown."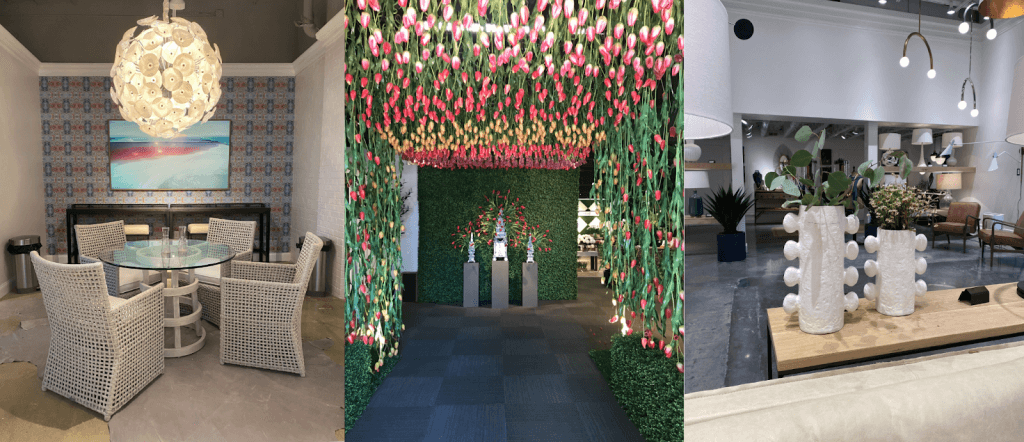 That history is probably what sets HPMKT apart the most from Las Vegas Market or Pacific Design Center or any other event. High Point has been happening for more than 100 years – it's been in existence longer than Mary Leigh's number one High Point must-have – bandages. It draws more than 75,000 people from every part of the world to its 11.5 million square feet of exhibition space. Its scope is wild and its significance is, too.
High Point Market has visibly changed in many ways – and maybe most notably to Mary Leigh is that the old network, who met in private clubs and focused on mass market big department store sales has been replaced by more diverse, increasingly female leadership in manufacturing, retail, interior design, marketing and media.
"The whole system is still lacking a lot of cultural and ethnic diversity, but it's better than it was," said Mary Leigh, who remembers a time when women's bathrooms were scarce and small at the event. And just to note, we're talking about the 1990s here. It's just wild to us that this event – and industry – that is so visibly driven by women, basically excluded them from important conversations as recently as when Ross and Rachel broke up for the first time on "Friends."
"It's changed so much that when I started, if you were an interior designer, you couldn't get in until day four," she said. "Because interior designers weren't seen as an important part of the business. Over the years it's changed – yes, the emphasis is still on the retailer – but in the past seven years or so, it's really acknowledged the importance of the interior designer."
"I believe that there are many, many manufacturers out there that will tell you that the fastest growing part of their business is the interior design trade, without a doubt. It's the fastest growing part and it may be poised to become the largest part of their business."
As this mainstay of the interior design and home furnishings trade continues to evolve and refine what it means to work in this industry now and in the future, isn't it important that you are there? Don't you and the design family you have created deserve a seat at next season's most coveted table? If we want the future of design to be diverse and open – and we do – we all need to participate any way we can. And that's why, if you can, you should go to High Point.