It's a good day when you can bring your favorite clients together for lunch. It's an even better day when they're the ones making the farm-to-table eats and the marble countertop where it's served. Good eats + good design = happiness all around.
Ultraviolet is an agency of publicists and storytellers. We're always looking for ways to help our clients, both within their industries and with each other, by utilizing our connections and relationships. Good people can do even better things together. And we knew the potential for a beneficial relationship existed when we introduced two of our clients: Richard and Chantelle Corbo of RBC Hospitality Group and Steve Schrenk, brand manager at Polycor.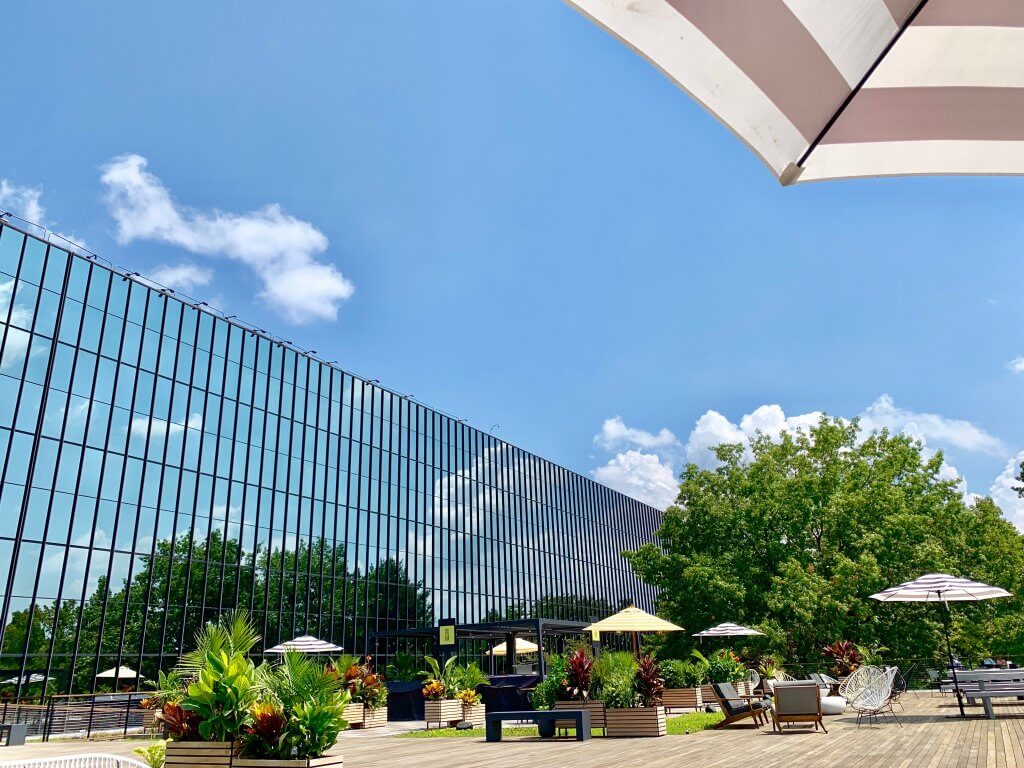 Bell Works, the place we call home, is an Eero Saarinen adaptive reuse building that has been repurposed into a one-of-a-kind destination for business and culture.
Creating connections is in our DNA, so much so that the building we call home, Bell Works, has a storied heritage of it. No matter what kind of device you are reading this on – phone, laptop, tablet – chances are it wouldn't exist in its current form without the inventions developed and perfected at Bell Labs (the former Bell Works). In its heyday, the Eero Saarinen designed Bell Labs building was home to some of the greatest advancements in communication technology. Innovation and communication are the building blocks of this space, which after a long (vine-covered) vacancy, was repurposed by developer Ralph Zucker into a one-of-a-kind destination for business and culture called Bell Works.
When Bell Works was still in its infancy, we were tasked with launching the social presence for RBC Hospitality Group — which stands for Run By Chefs. At the time, it was a pop-up eatery with a big vision: to become a European style food hall serving a variety of local options to the soon-to-be booming Bell Works population. Dreamed up by husband-and-wife team Richard and Chantelle Corbo, and their partners Chad Spencer and Jeff Systma, Bell Market is the restaurant group that's the result of that vision.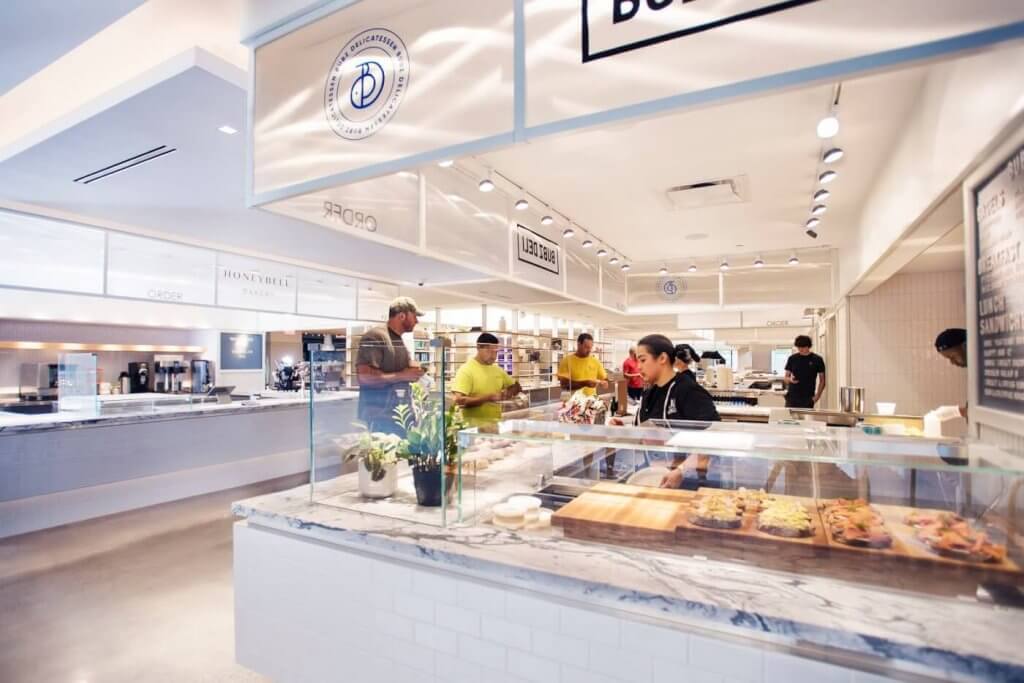 Bell Market is a European style food hall serving a variety of local options.Photo by Lapeg Photo.
With a proposed collaborative five-concept plan, RBC's Bell Market was a big undertaking, and with that came a big budget. Designing a 6,000 square-foot space that includes five distinct food stations — Corbo & Sons pizza; Jōzu sushi, ramen and robata; Bubz Deli, Broadfork greens and grains; and Honeybell bakery, plus a bar — meant a lot of counter space. And when the original design concept came in at double the budget RBC was hoping for, they started looking for alternate ideas. And that's when ultraviolet stepped in with a solution.
Another one of our clients, Polycor, is a North American stone quarrier with an extensive natural stone portfolio that includes marble, granite, limestone and soapstone (personal fave, I have to say). We thought that Polycor might have the answer that Richard and Chantelle were looking for, so we introduced them to Polycor brand manager Steve Schrenk.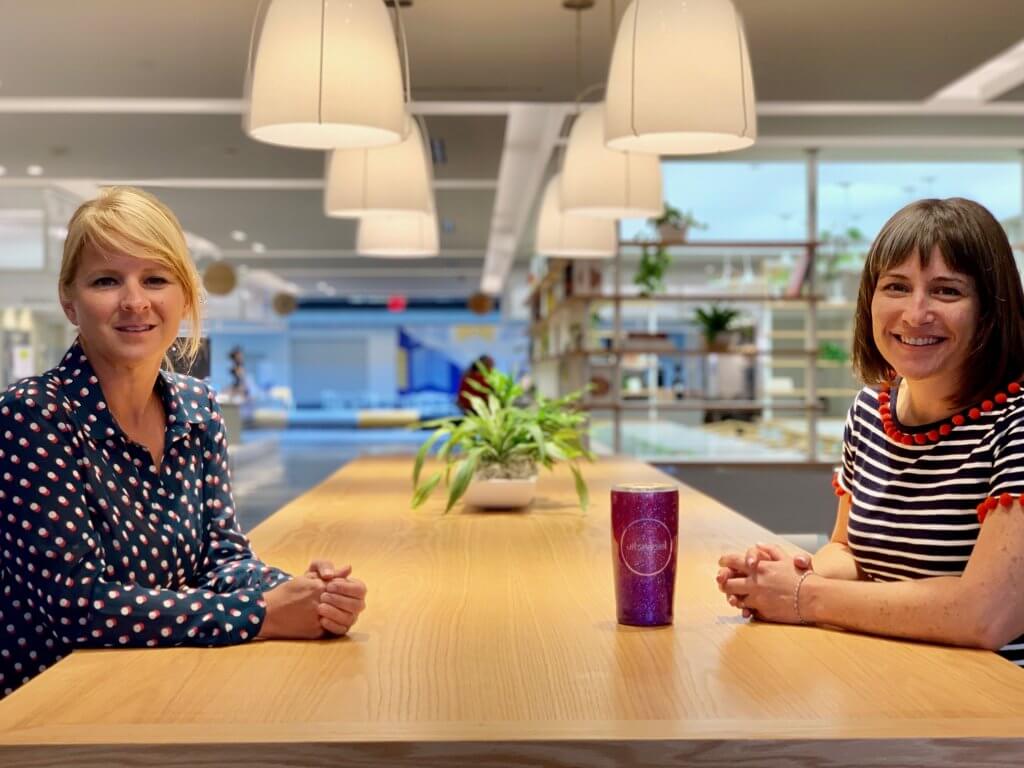 Creating connections is in Jen and Shannon's DNA. And who wouldn't want to enjoy eating lunch daily in the space where they created that synergy?
Steve passed onto the couple a sample of Polycor's Solar Grey marble from Georgia. The American marble would deliver the same wow factor as the original overseas marble they had initially chosen for the six large countertops, but with a considerable savings. Richard knew right away that he had found his countertops.
"To see a sample of something beautiful that was a fraction of the cost, plus that was local and abundant, it was an easy choice," Richard said. He loved the marble so much that he actually ordered two additional slabs of it for his home kitchen.
The Bell Market space is a surprising homecoming for both Corbo's: not only does Richard have memories of visiting his dad who was a sign maker and engraver at Bell Labs, but as a kid Chantelle played near Polycor's quarry in Tate, GA, making the marble counters a little piece of her Georgia home literally here in New Jersey.
"It's one of my favorite elements of the design of the space," Chantelle said. "And the fact that it's from Georgia, that it's from the U.S., it just made sense."
To further leverage this homegrown partnership, we coordinated a photo and video shoot that helped our clients attract press, grow followers and gain credibility. We worked with local filmmaker Michael Altino of Silver Style Pictures and photographer Lapeg Photo to create visuals that featured both clients. Soon after, Bell Market and their Polycor countertops were featured in Architectural Digest and The New York Times.
The video (really a short, lustrous film in Altino's capable hands) is part of the SPACES series, which showcases the passion of the designers creating their own personal spaces for home and work.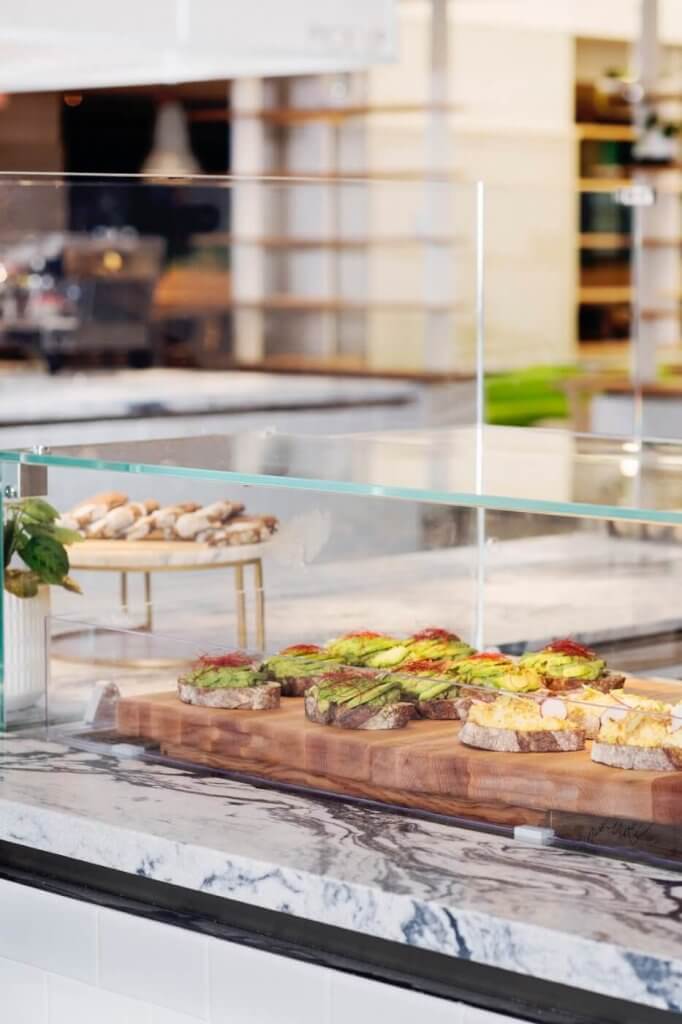 The Polycor marble anchors the Bell Market space. Photo by Lapeg Photo.
The Polycor marble anchors the Bell Market space much in the same way the food hall is an anchor tenant for Bell Works: It's at the center of everything – the building and the community that has grown around it. We're glad to be a part of that community in a building that inspires us on the daily.
And let's be honest, when we host the Polycor folks from Quebec, we're pretty glad to be eating salmon tartines at a honed marble countertop instead of chewing stale almonds at our desks. There are perks to creating client synergies.
Learn more about our work with Polycor, check out the UV case study.