the case
Quebec based Polycor operates 50 quarries in Canada, the US and France and has an annual revenue of >$220M. Their natural stone portfolio includes marble, granite, limestone and soapstone.

Polycor acquired a small Virginia soapstone quarry in 2014. Despite being the only operational soapstone quarry in the country, countertop slab sales were sluggish.

---
The Goal
drive designer demand
Designers just weren't specifying soapstone for their interior projects. The material, which had been relegated to chem labs and old country slop sinks, had lost its appeal. Our research revealed that the cause was both aesthetic and lack of understanding of the product.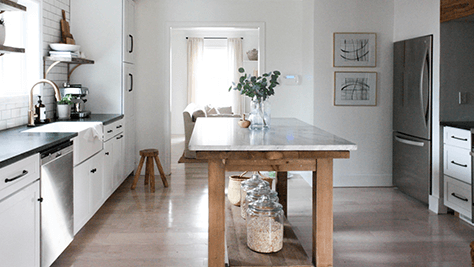 It's basically my dream countertop material. I love it so much I put it in my kitchen too.
Sarah Gibson | Room for Tuesday and brand ambassador for Polycor
---
Obstacles
no inspo
In a social media sea of white kitchens and high gloss countertop designers didn't have the exposure they needed to compel soapstone designs for interiors.
the green myth
Designers were directing their clients away from soapstone because of misconceptions that the stone scratched easily and or would turn green over time.
---

The Ultraviolet Agency team members are nimble opportunity grabbers. They approach our content and marketing strategy like it's their own business. I can count on them to rapidly change direction and adjust tactics as our company grows.
Geneviève Robichaud | Polycor | Vice President of Marketing
---
project highlights
1

Reposition soapstone from historic and industrial to modern and natural and target residential interior designers with content marketing, social media, paid media and brand ambassadors
2

We crafted a campaign featuring aspirational images of soapstone designs for kitchen and bath and answered frequent obstacles to the sales process, ie. Does soapstone turn green?
3

We tapped into large social networks by developing strategic partnerships with design influencers like Kirstin Grove, Anissa Zajac, Sarah Gibson and Megan Pflug
4

The success of the campaign also attracted new brand ambassadors with increasing influence and new crop of high design project images
---
results
40
%
jump in soapstone sales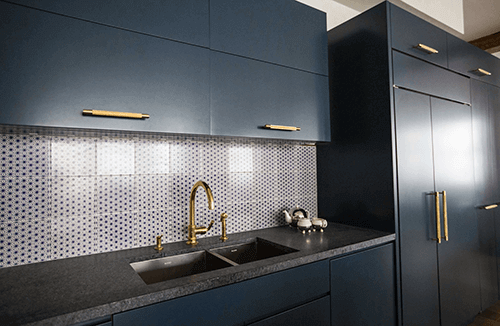 Soapstone Sales Explosion
In one year, without any marketing efforts outside of our campaign, soapstone sales increased 40 percent and soapstone became a trending material for kitchen and baths. Through this campaign our influencers have appeared in Remodilista, Apartment Therapy and Rue Magazine. With a deep well of soapstone content and hi-res imagery, Polycor's organic rank (and social influence) for soapstone countertops continues to rise.
---

let's talk
share your goals and needs with us