It's hard to embrace the whole "new year, new you" mentality if you feel uninspired being surrounded by the same old stuff. Looking for help to get us in the spirit of reinvention for the new decade, we spoke with friend of ultraviolet and constant source of inspiration, Eva Amurri—mom, actress, entrepreneur, and founder of lifestyle blog Happily Eva After—about trends, tips, and what she's excited about in the world of design for 2020.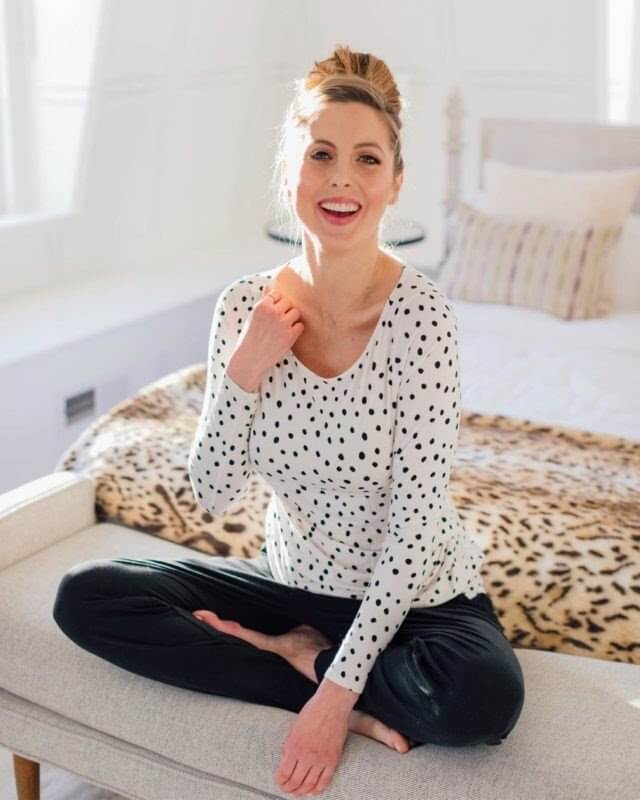 Courtesy of Happily Eva After
uv: Your home seems so uniquely you, with a careful eye toward crafting a beautiful space that reflects you and your kids. How do trends fit into your design approach?
Eva: I firmly believe that design trends are fun and interesting, but that when designing your home, it's imperative to come back to the elements that really speak to YOUR soul personally. Following trends instead of your heart can ultimately make you feel uncomfortable in your own space years down the road.
uv: Getting back to nature is a trend that's about a lot more than just bringing in plants. It's focused on reconnecting with the natural world. The natural stone countertops featured in your kitchen and bathroom came immediately to mind—are there any other unexpected ways you recommend to bring natural elements to a home, indoors or out?
Eva: Natural stone! Putting a spotlight on beautiful, local landscaping! I also think rooting oneself in the history of a home and celebrating the old while bringing it into a more modern space is also a great way to highlight life's process.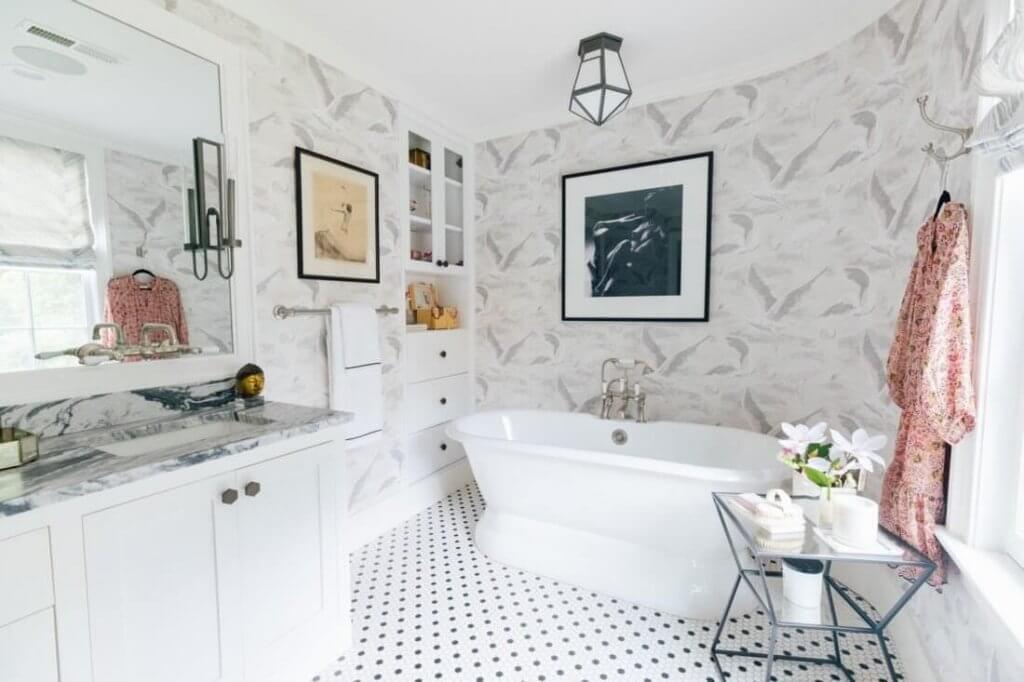 Courtesy of Happily Eva After. Featuring Polycor Pearl Grey marble.
uv: Sustainability is being labeled as a trend, but it seems your approach to sustainability has been more of an expectation or intrinsic requirement than a temporary demand that can go out of style. Do you think sustainability is more a movement or a moment?
Eva: I hope it's a movement! I love reutilizing lots of natural materials as well as repurposing vintage furniture and accents.
uv: Gender-neutral kids rooms are one of Pinterest's big trends for the year—why do you think parents and parents-to-be are drawn to the concept of unisex nurseries and every-kid playrooms?
Eva: I've recently turned my daughter's room into a more gender-neutral space for my two older kids to share once their baby brother arrives this spring. I think people are starting to have more kids with less space and keeping it neutral is just easier.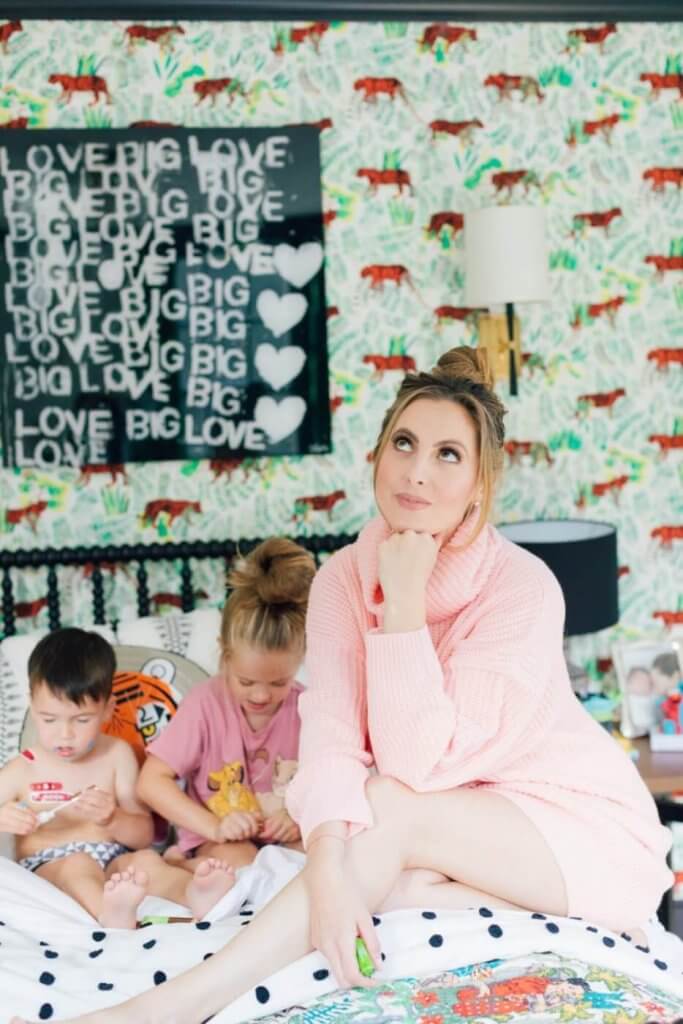 Courtesy of Happily Eva After
uv: Are there any other trends for 2020 that you are particularly excited about?
Eva: Ceiling treatments! I think it's so fun to bring some intrigue to your space by drawing your eye to the ceiling with fabric or paper. We used this in my home in a few spaces. I also have always loved industrial lighting (another forecasted design trend), and recently I've been into vintage industrial lighting. I love mixing old with new.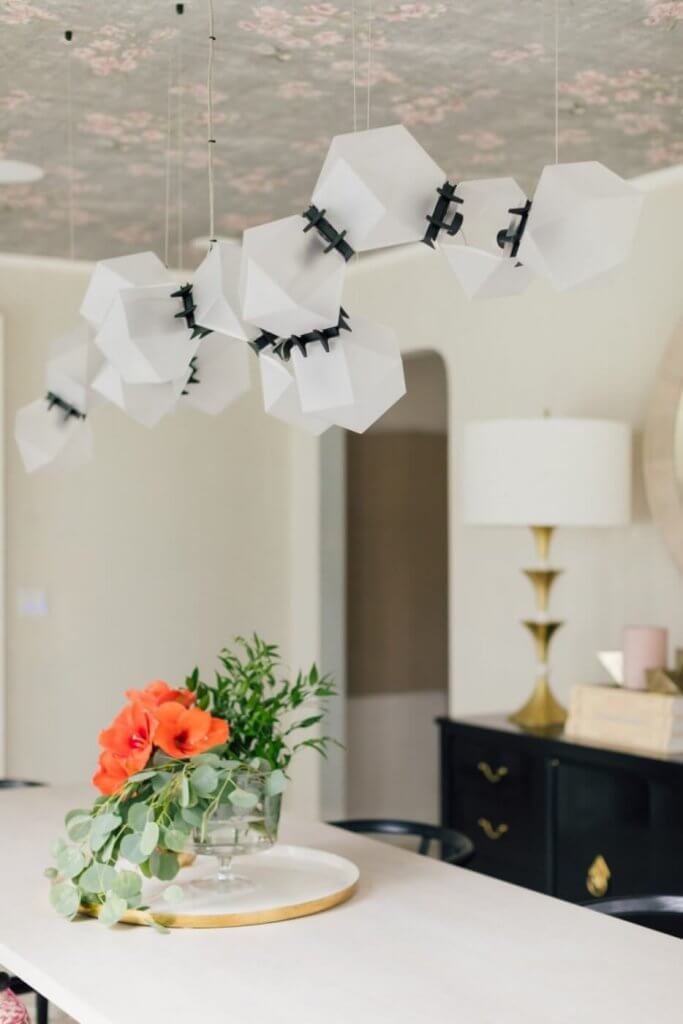 Courtesy of Happily Eva After. Dining room ceiling wallpaper by Nicolette Mayer.
uv: Do you have a color that you can't wait to use in your home this year?
Eva: I've been bringing in a lot more black than I normally do, and I've been loving the drama it contributes! I have two built-ins in our house with Benjamin Moore's Soot. It's such a good paint color.
uv: You've mentioned that Benjamin Moore's Chantilly Lace is your go-to white paint. So, thinking about that from a fashion perspective, if Chantilly Lace is your perfect white t-shirt, do you have a paint equivalent to the LBD?
Eva: Soot! I also love Caviar, which has the most subtle hint of an inky, eggplant undertone.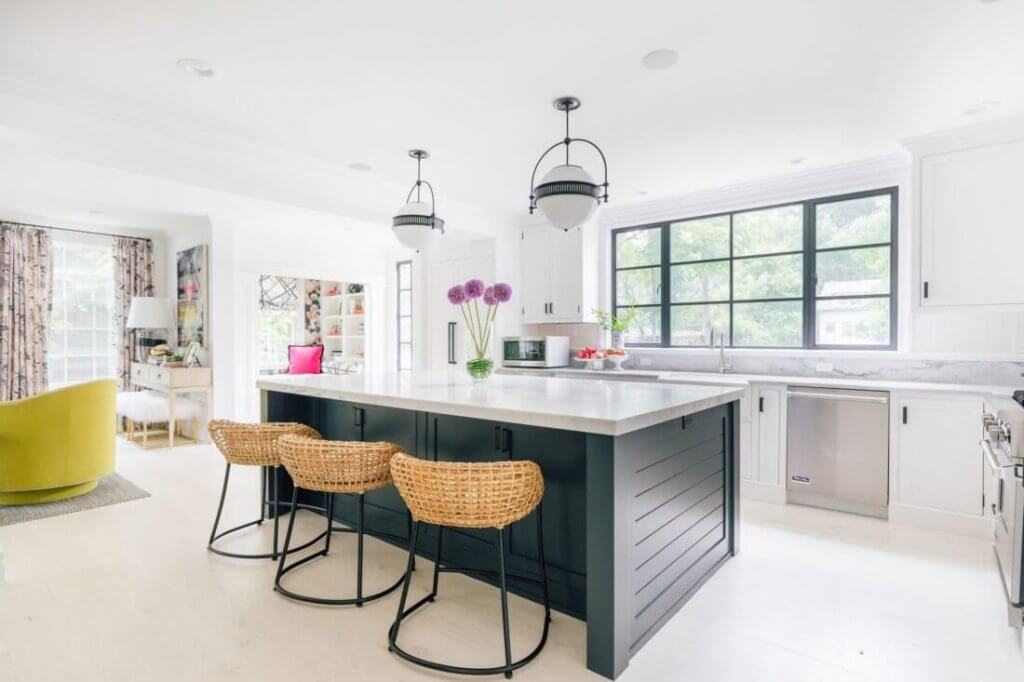 Courtesy of Happily Eva After. Featuring Benjamin Moore's Chantilly Lace on the walls and Soot on the island, and Polycor White Cherokee marble.
uv: And along the same line of thought, just like how you'd mix trends in with classic pieces when putting together an outfit, how do you layer trendier pieces or accents into a space?
Eva: Listen to your instincts. If you love every element in a room, they all DO go together in some way. You are the common denominator!
Check out everything Eva on Happily Eva After and don't miss the details of her gorgeous historic home, which combines old and new, including her new natural stone patio here.
Interested in what top design professionals are sharing about their world? Download our guide.