Your publicist's metric for success is relationships, not revenue, right? What if you could tie sales leads, and revenue, to your pr department? It may sound far off, but the modern publicist is doing more than damage control and fielding press calls. She's a proactive member of the marketing team generating and nurturing leads online. That is if she's adapted to the digital market.
Some think a publicist's job is cut and dry (often even the publicist does). Traditionally, she made the valuable relationships that created opportunities for media coverage and exposure via email and phone calls.

Things have changed in the pr world.

I've seen it firsthand as my role as publicist has changed with social media and access to analytics on who is visiting my clients' sites, where those visitors came from and how they're behaving online. Your own public relations exec may be using new strategies to connect with brand ambassadors and potential customers with what we call social PR. I can tell you that it's the single most powerful tool since the press release.

Here's why:

Today, the publicist isn't just pushing out a company message through releases. (At least I hope not.) She's practicing social pr by communicating and engaging media, bloggers and industry influencers on sites like LinkedIn, Twitter and Instagram.

For example, interior designer and kitchen and bath professional Toni Sabatino recently attended an invitation only tour of our client Polycor's marble quarry and Vetrazzo recycled glass manufacturing plant.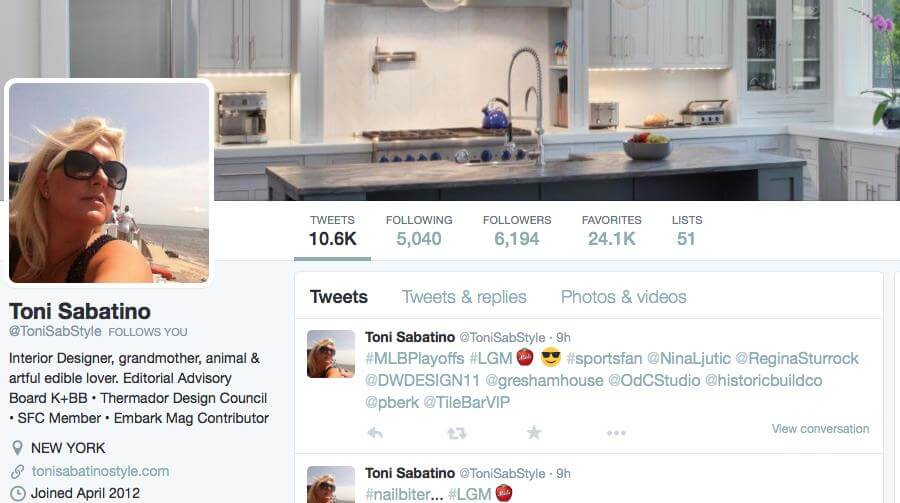 As an active design blogger, tweeter, and Instagrammer, Toni's content gets read, viewed and is shared by our client's #1 target audience – designers. During the tour, although I was not present, I took the opportunity to connect with her on Twitter and Instagram as she enjoyed her experience meeting the people and learning about the process of where and how North America's premier marble is cut and manufactured.

Our casual Twitter and Instagram conversation further extended Polycor's reach on social and Toni's conversation around the tour has put their products in front of a greater audience, right in their target market.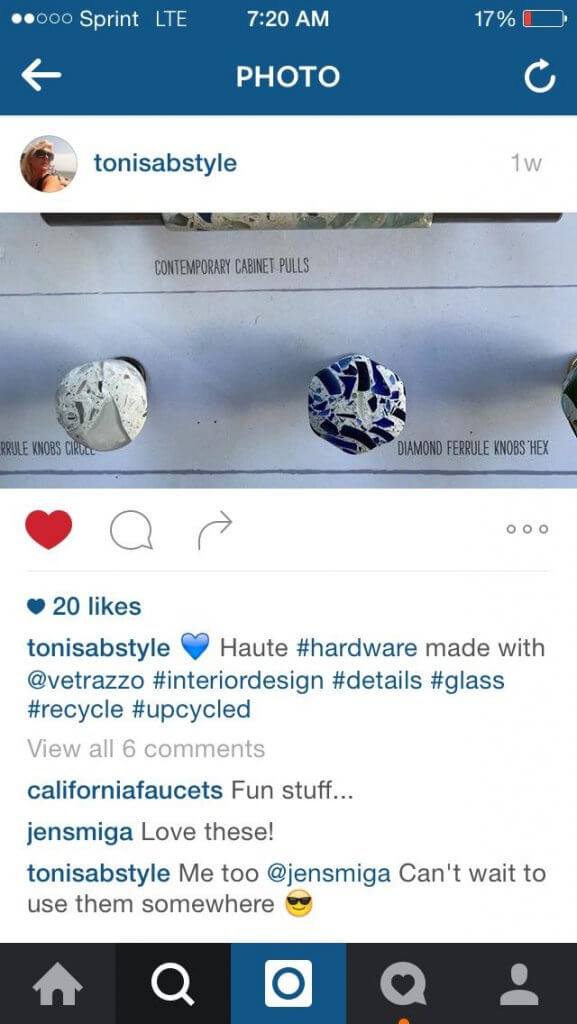 I will continue to nurture the relationship by sharing Polycor's content with her and commenting on the content she shares. I'll be sharing Toni's new blog post on her quarry visit over the next few days (and will continue to do so a few times a week for the next month or so).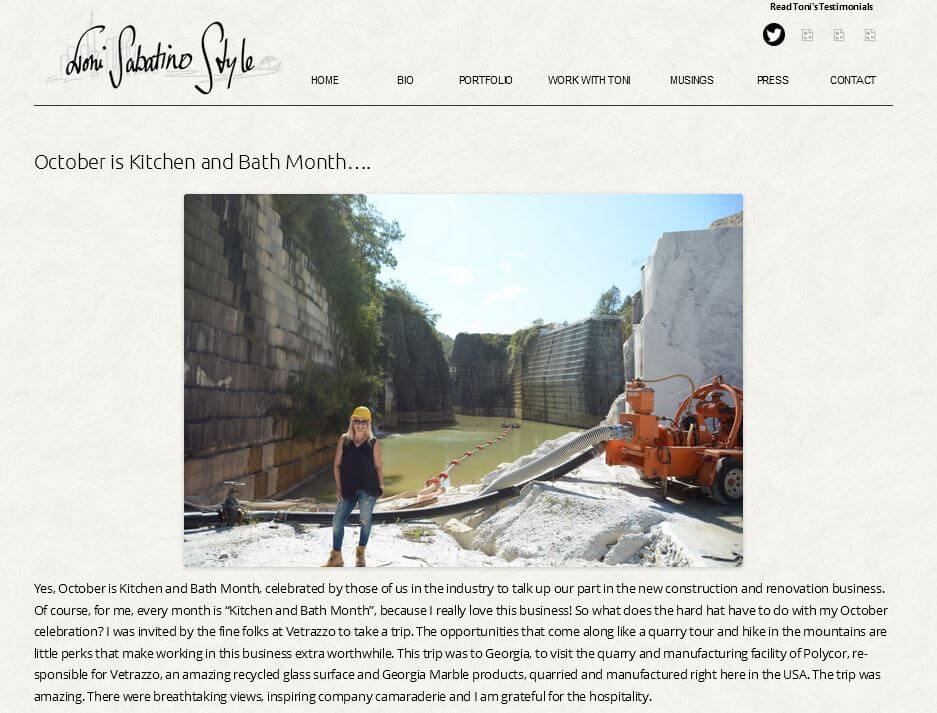 Tip: If you've developed a social relationship with an influencer in your industry, follow the content he or she produces, and share those blogs or articles referencing your client on your personal social accounts, as well as the client's.

Note: Keep the conversation to a few times a month so you are not flagged as a social stalker. Play it cool and share and comment when appropriate. You just need to keep yourself and your client top-of-mind.
Social pr works long after the office closes
Social media is open 24 hour a day, 7 days a week. On the company's behalf a social pr rep is attending the networking event that never ends.

Is she really working around the clock? I hope not. But if she's smart about her data and the tools she uses to connect with people, she's working when and where your contacts are, jumping on weekly tweet chats, direct messaging in the morning on Twitter, and retweeting bloggers on the weekend. Daily, she gathers valuable site traffic and conversations, and marketing and sales VPs take note because her lead intelligence is deep.

Marketing agencies (like us) see value in this digital publicist. It's why we create hybrid teams of pr, marketing, web development and creative talent. Our publicists add their insights and data to marketing reports and revenue is directly attributed to their online and offline relationships and communications. No one is working in a silo, and they shouldn't be.

What pr data matters to marketers?
Beyond the standard media hits and reach, marketing and sales teams look to their publicist for analytics on industry leaders and followers engaging with their content, which is often blogs, downloads and video they've pitched.

Insightful answers to questions like:

Who are the people downloading our content?
Who needs to be nurtured further?
What's their greatest pain?
What are their content needs? i.e. more professional images, video, interviews.
Who is a sales ready lead?
Who are the people asking questions regarding products and services?

All of this valuable data can be pulled from social accounts and if your publicist works with an inbound marketing team using software like Hubspot, their pr campaigns and social media can be easily tracked, reported and acted on by your sales team, closing the loop on marketing and sales.

Last week I spoke about how to balance big data to power pr results on a webinar hosted by PRNewsire. We talked a lot about how data and social media are helping traditional companies transition to the digital market. You can see excerpts of the slides here.

My main emphasis was that the relationships and insights we publicists gleen from social media provide the market research that powers marketing, feeds sales and maintains the image of the company. My advice to my fellow pr people was, know the differing needs of company execs and tailor your data to them. Share the big picture numbers on followers and influence to your president, note the marketing qualified leads you discovered on social to the VP of sales, and report on target customer insights to the marketing reps.

The lesson here is if you have a pr department, or even one publicist on staff, you've got a secret sales and marketing weapon.
Provide those representatives with the tools they need to create relationships and generate leads. For us at Marketing Rival those tools are our client's social media accounts, Google analytics and HubSpot, an intelligent integrative marketing software, along with traditional methods like press releases on PR Newswire and personal phone calls.

With time and investment you'll see those social relationships become a support for your sales efforts and source of new leads. The lasting effect will be more traffic, better brand recognition and a bigger stake in the digital market.