As a designer or a brand, Instagram is a must-do marketing move to bring awareness of who you are and what you offer. At the Design Influencers Conference, discussions around Instagram included how to achieve that ever-elusive goal: more engagement. One way is by getting real. So much of Instagram is about posting pretty pictures. Yes, you want to show your best. But the truth is, Instagram is a community of humans who have feelings, who get stressed, who make mistakes. And those moments of authenticity can bring you closer to your community than just showing perfection all the time. But how do you do that?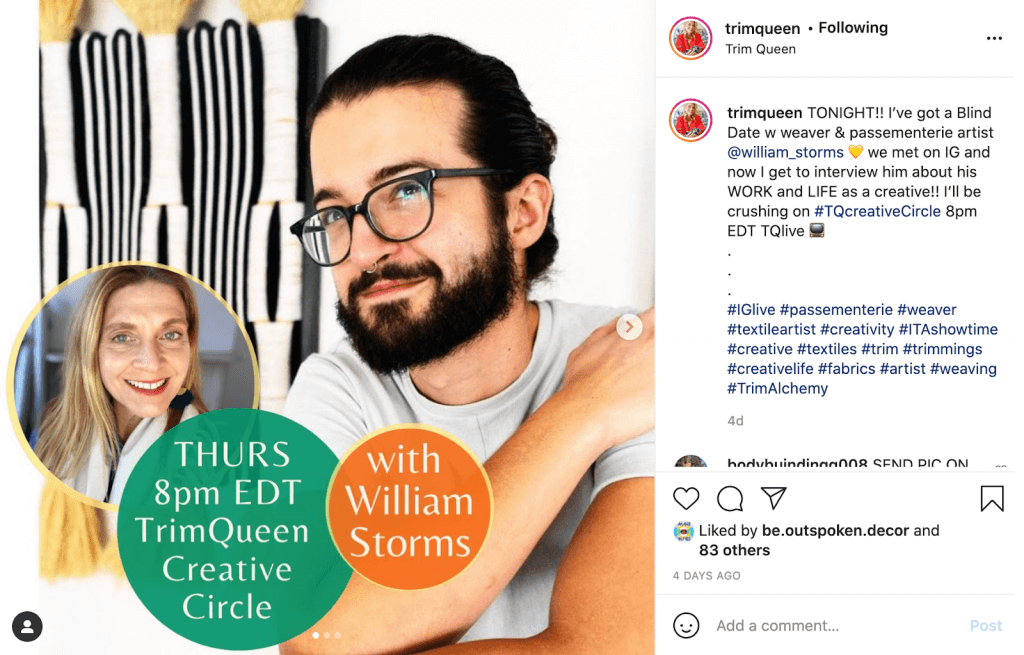 We talked to Jana Platina Phipps, aka "The Trim Queen," an embellishment expert, trimming designer and content creator who also hosts the Instagram training class, "Instagram Agility." She offered some of her pro tips on what it means to share your true self and real life on Instagram to allow people to connect with you authentically.
What Does "Being Authentic" on Social Media Really Mean?
When you hear "get real" on Instagram, you may think you already are by sharing what you do. But upon closer inspection, those we follow and feel most connected to are likely the ones revealing more than a glossy finished product of a great design or more than themselves looking fabulous or being somewhere fancy. Getting real means showing those moments that are not so "camera ready." For Jana, it means being able to embrace those imperfect moments, "Sometimes we are head smack in chaos behind a beautiful project or shot. So I have to be able to laugh at myself and the circumstances and show a little grit, not just the shiny parts. Most importantly, I want to show that I keep on truckin'."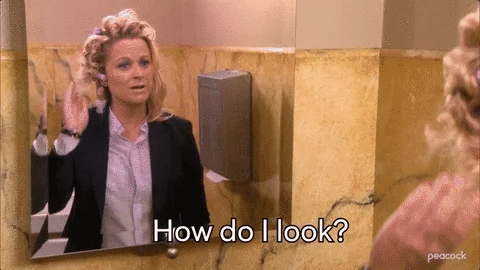 How Not to Fall Prey to Social Comparison
As you scroll and scroll through your feed, it's easy to look at others' accounts and compare them to your own. Seeing beautiful photos or high numbers of followers and engagement can crush your motivation in what Jana calls "compare and despair." For that, she says, she just goes back to who she is and what she has to offer. "I had a pivotal moment during a stage show I did called Trim Alchemy. I called people on stage to create something. It was so much fun, and the people there looked up to me. I realized I don't have to compete with a 30-year-old, perfect-looking blogger. I'm a middle-aged mom; I have something to share and empower people with, and I do it from a place of joy and love, not to show off. I can't be anybody else besides myself."
What Type of Posts Can Show Your Authentic Self?
If you're wondering what kind of posts can get your Instagram presence closer to your authentic self, we have some suggestions:
Behind the Scenes – Show the hard work you put into projects, the schlepping and the pull-your-hair out days. Behind every perfect project reveal are those moments when things went wrong, it was frustrating and it was just not glamorous—people can relate!
Humor – Be able to laugh at yourself—the fumbles, the stumbles, the juggling acts and those moments before you had that first cup of coffee. Sure, it's important to be professional, especially when trying to attract clients and customers, but you also want to show that you don't take yourself too seriously.
Your Feelings – It's OK to feel frustrated, exhausted or down. You're human, and everybody has moments. Be careful not to reveal that you're not up to a task or that you can't pick yourself up and get back in the ring if you have clients or potential customers as part of your audience. But everyone can relate to challenging moments as part of life and work.
When Are You Sharing Too Much or Getting Too Personal on Instagram?
During the pandemic, it was easy to see the shift on Instagram. Things got real. Suddenly people couldn't show perfect projects and fabulous locations because everyone was at home. Mental health issues also came up—fear, loneliness, anxiety, isolation, depression. Many took to Instagram to express what they were feeling. While most of the confessions were met with compassion as the world shared in these feelings, it also brought engagement. But how do you know when you're sharing too much of your personal life? "It can be tricky because if you have a big client and you show your face that you can't do the work, that can be kind of dangerous. You have to know who your audience is," says Jana. "I posted when my whole family got COVID, and everyone was so supportive. But it wasn't anything I wouldn't share with clients."
What About the Trolls? How to Get Over the Fear of Criticism on Social Media
For all the positives that come out of social media—connecting with others, building awareness for your brand—there is also the dark side: trolls. While social media can bring out the best in people in terms of support, it can also bring out the haters. How do you share your most vulnerable moments when there are people out there who don't know you and want to attack for whatever reason? Jana says not to take it personally. "You invite it if you put yourself out there. And sometimes it's valid criticism, and that can be tough to take. But most of it is junk." Jana's strategy is to acknowledge, validate and then delete. "I never just delete without acknowledging them. You never know what someone is going through. I validate their feelings and then just leave it. If they keep going or it's offensive, then delete."
Let Us Help You
While Instagram can be one more task on a busy schedule, it can also be part of the creative process to be included in the package of visuals for a project. ultraviolet has the expertise to help you make your Instagram feed true to your brand and attract the kind of clients you want. ultraviolet is a full-service digital marketing agency that believes your great work deserves to be celebrated and seen—and we know how to make that happen. We develop and execute high-impact tactical strategies that increase brand recognition, expand community, and grow sales.
Capabilities include:
website development with specialization in both B2B and B2C design principles
online advertising across ad platforms for social media, paid search, display, and native advertising
SEO and content creation
branding and design services
influencer marketing
social media marketing
public relations