Brand and influencer partnerships may seem magical, but the picture-perfect sponsored posts you see on Insta are the result of careful planning, creativity, hard work, and analytics. And they begin with pairing the right influencer with the right brand.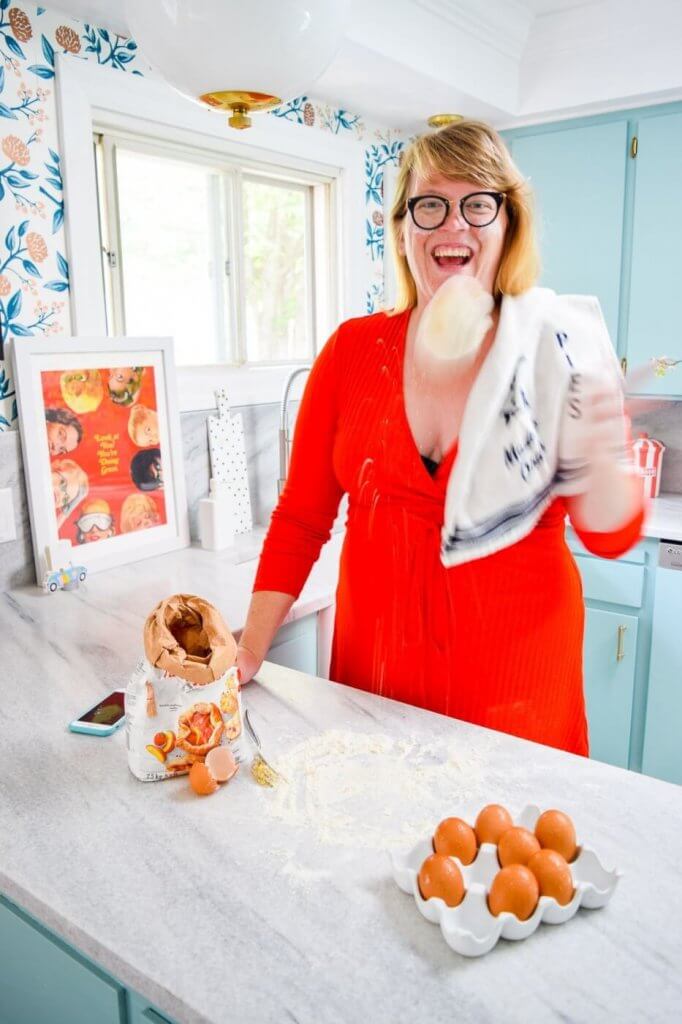 With an incomparable eye for color, pattern and whimsy you might get the misguided impression that Ariel Garneau is a carefree content creator. But this Canadian based blogger and designer is a business owner with a strategic mind who built her brand through authentic partnerships and premium content.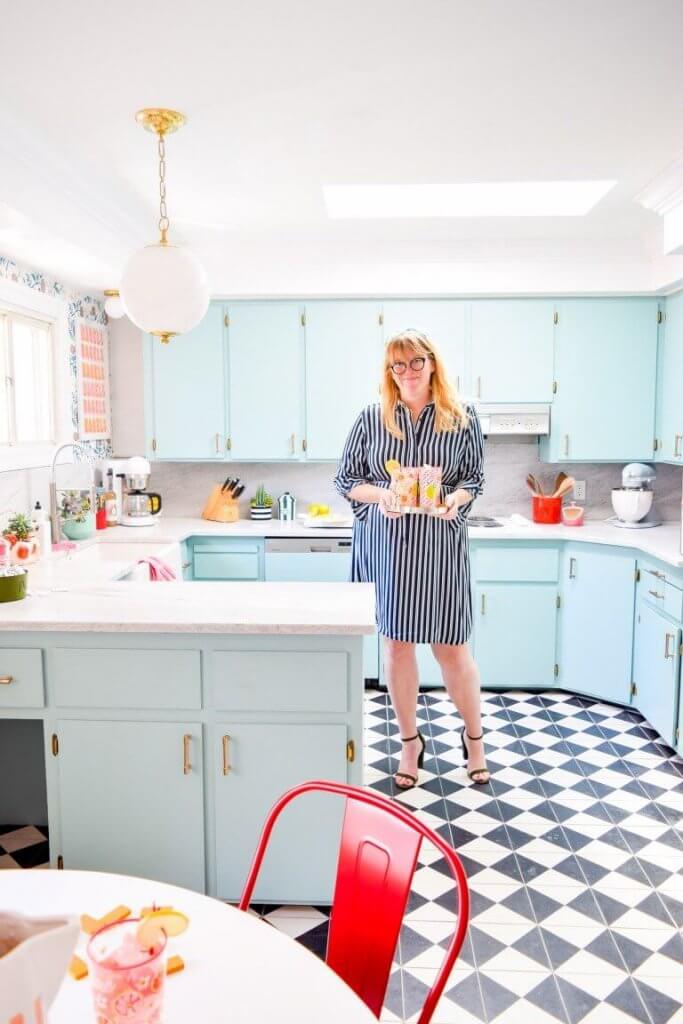 Garneau started decor and style blog PMQ for Two to showcase the functional-meets-fun solutions she created to personalize the Private Military/Married Quarters (aka PMQ), temporary housing provided to members of the military and their families, that she and her husband found themselves in. Garneau is now putting her time and talent toward a brand-new challenge: renovating a 1960s fixer-upper. This is the first home she and her husband have purchased, and she's determined to keep as much of the kitsch retro charm as possible while still having some of the fun she wasn't able to have as a renter: namely, demo.
"All of my designs had been based around renter-friendly options," says Garneau. "Being able to actually rip cupboards off the wall, add new flooring, and choose new countertops has been life changing."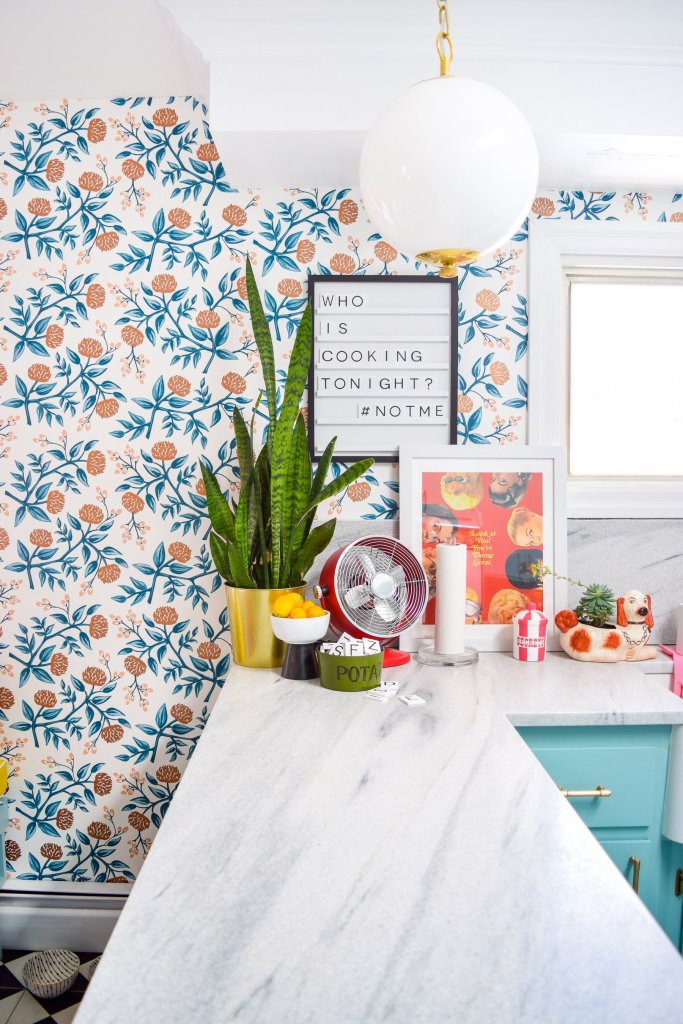 This newfound freedom to renovate inspired Garneau to participate in the Spring 2019 One Room Challenge, a twice yearly event in which participants share the process of transforming a room in just six weeks. And in typical Garneau style, she went big and bold, creating a retro glam kitchen renovation full of her signature colors, bold pattern mixing, and eclectic decor. Anyone who's renovated a kitchen knows it's not a small undertaking, which makes it even more noteworthy that Garneau was six-months pregnant when the challenge ended.
"I've been participating for three years now, sometimes twice a year, and love the time crunch," says Garneau. "I use it as a challenge to complete a space that might otherwise lag or take forever to complete."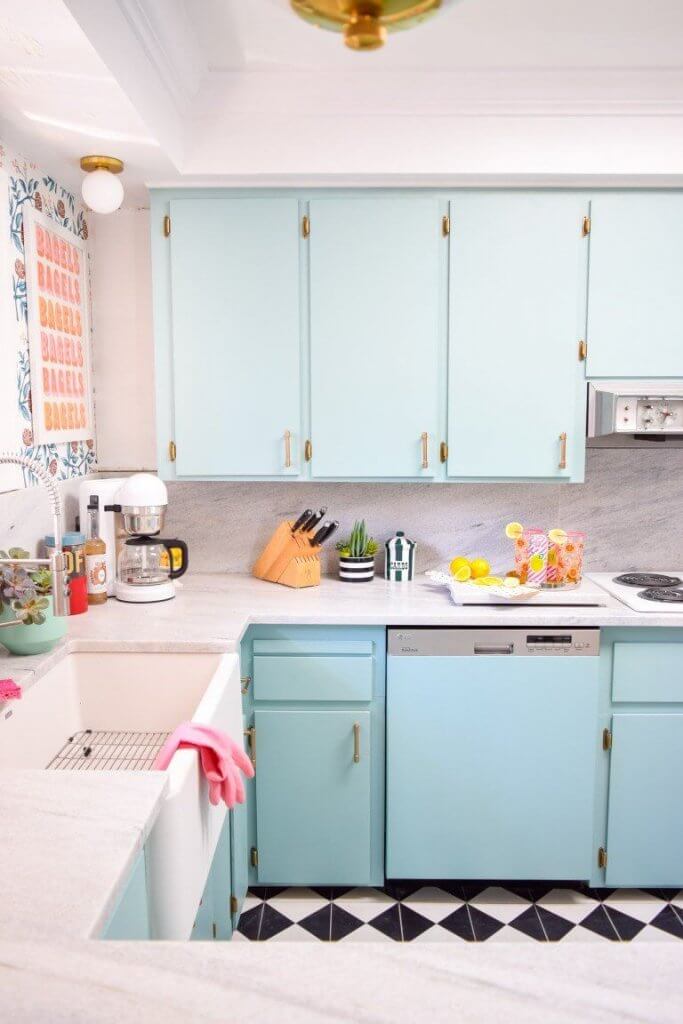 From early on, Garneau knew she wanted marble in her renovated kitchen: even though marble is very on-trend right now, it is an equally timeless choice. Plus, marble would help put the "glam" in her retro glam vision. As one of ultraviolet's strategic partners, we connected Garneau with Polycor, the world's leading natural stone quarrier, for countertops and a full height backsplash in the company's White Cherokee marble. The marble countertops pair nicely with her sponsors and choices: Rifle Paper Co. x Hygge & West wallpaper Peonies in Copper and satin brass Myles Lever door handles with Modern Rectangular Rosette and Jasper cabinet and drawer pulls, all from Emtek.
She had first heard of Polycor when she saw interior designer Holly Phillips' renovated kitchen, which also features Polycor's White Cherokee marble. But Garneau didn't just say yes to White Cherokee sight unseen: she removed the samples from the books they came in and moved them around the room to see how they'd look in different lights and in different spaces, like under the cupboards or as a backsplash.
"I approach brand partnerships a few ways: either I've used the product before, in my own time, and want to make an official partnership to promote the product, or I want to try to product and have heard great things from consumers or fellow bloggers," says Garneau. "Aesthetic fit and corporate culture play into my decisions of who to approach, and beyond that, willingness to meet my sponsored content rate and product requirements are also quite important."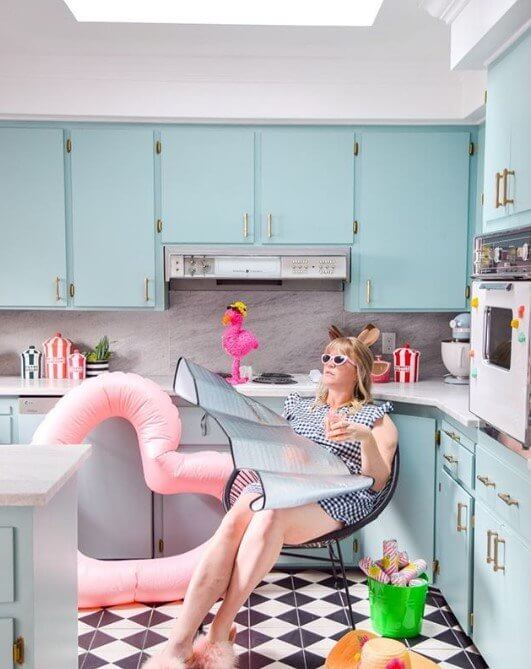 Her devoted fanbase loves the smart solutions and delightful DIYs, not to mention the signature visual style that Garneau has delivered over the years. And the stats reflect that adoration: an ever-growing list of thousands of followers and subscribers, and a monthly reach in the millions.
When brands like Polycor decide to work with Garneau, they're doing so for her channels' reach, her audience engagement, and the quality of content she produces.
"I do create freely for myself without sponsorship, but when a brand and I are collaborating they compensate me for the exposure and reach my channels provide," says Garneau. "After years of working as a business owner, I've come to appreciate the value of a tightly negotiated contract — especially when both sides need specific things."
Looking to partner your brand with influencers? UV can help. See our work.
One of the needs Garneau frequently needs to address is her brand partner's requests for social media promotion. She takes each social media channel's formatting and audience preferences into consideration when creating content, whether its sponsored content or not. And other than Instagram stories, none of it is impromptu.
"The world of social media and the algorithms that dictate the content distribution, require planning," says Garneau. "You can't just post any old pic and expect to get strong engagement or likes. You have to cater to your audience, and that means creating content within certain guidelines."
For example, none of her Instagram photos are taken with her phone, and all of them meet her criteria for color, lighting, and scale before being considered. Garneau offers advice for growing your audience — her impressive numbers are all 100% organic — as well as insight into what tools to use, how to develop partnerships and create content through paid mastermind groups and classes she conducts.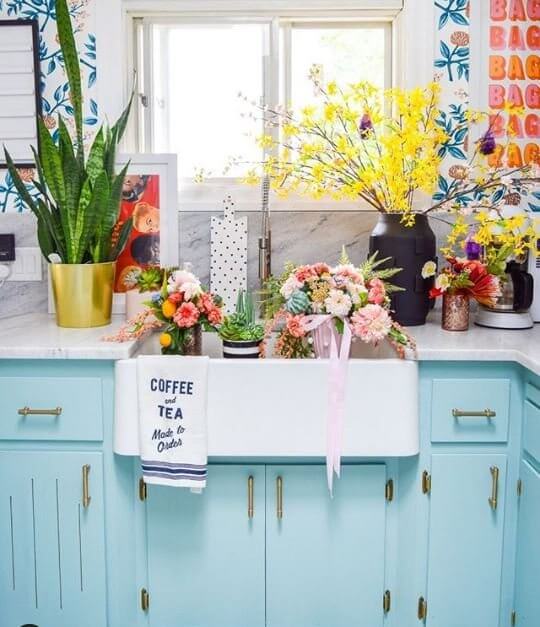 "I've spent years building up credibility and authority with my audience through genuine content and partnerships," says Garneau.
Even though Garneau is very open with her home and life online, it's clear that she fully understands the line between her personal life and her brand — as she's fond of noting; it's not personal, it's business.
"Yes, there are tons of people willing to work for 'exposure' and for free, or product, but those people ultimately devalue their own channels, and potentially your brand," says Garneau.
Managing a website, creating engaging content, and building mutually beneficial brand partnerships sounds like it's at least three jobs, but for Garneau it's one perfect fit.
"I love every minute of it," says Garneau. "Even if that means working for myself what feels like 24/7."
Are you a brand or an influencer? Learn more about our partnership programs.