If you've ever thought that artificial intelligence (AI) was strictly the domain of sci-fi movies, prepare to have your world expanded. AI technology is transforming industries across the globe, making waves in areas as diverse as healthcare, finance, and transportation. But did you know AI can also make a big splash in interior design and home goods?
Here are five surprising ways to leverage AI in your design business.
1. Product Design – Beyond Conventional Imagination
Believe it or not, AI is redefining the boundaries of product design. The creative process is no longer confined to the limitations of the human mind. The AI advantage allows us to explore untapped areas of innovation and sustainability. Take the example of Whirlpool's Zera Food Recycler. This innovative home product uses AI to turn food waste into compost efficiently. The AI monitors conditions within the machine, controlling temperature and moisture levels to expedite composting and sending maintenance notifications to users as needed. This design, scheduled to hit the market soon, illustrates the potential of AI in enhancing product design while contributing to environmentally sustainable practices.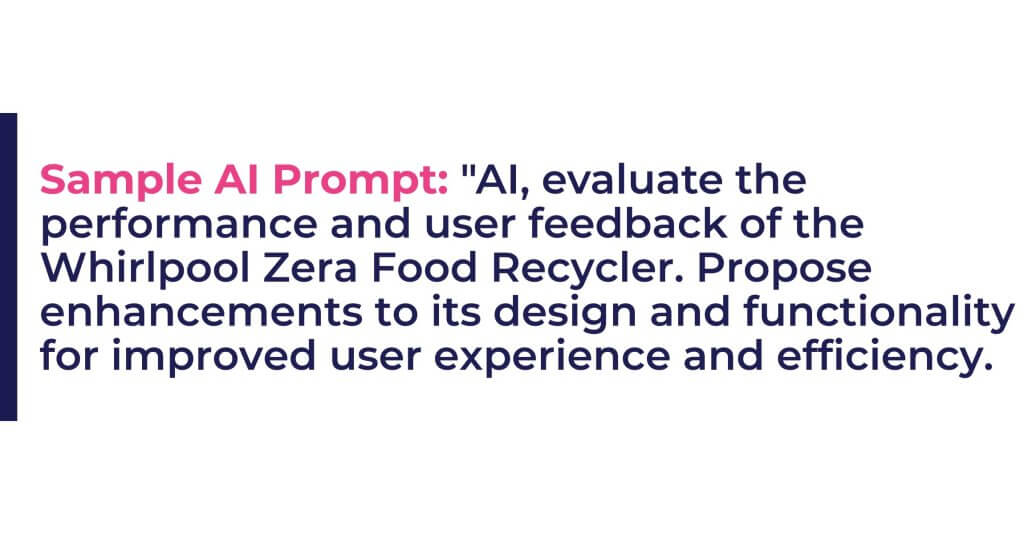 2. Reveal New Market Opportunities
Looking for a way to stay ahead of the curve in the rapidly evolving home goods and interior design market? AI tools are the impressive solution you need. These tools delve into data from a myriad of sources, illuminating emerging trends, whether it's the latest color scheme, favored materials, the surge of eco-friendly designs, or the demand for compact living solutions. This rapidly evolving technology will allow you to identify opportunities early and, consequently, give your business the competitive edge it needs.
3. Streamline Logistics
Managing inventory and streamlining the supply chain can be tedious and time-consuming. AI technology can optimize these processes, making your business more efficient and cost-effective, freeing up your time to do what you love most – designing.
By predicting sales trends and other logistics important to your business, AI can help manage stock levels and suggest the best shipping and delivery routes. This can reduce overhead, minimize waste, and ensure your products get to where they need to be when they need to be there.
4. Predict and Manage Growth Opportunities
AI isn't just about robots and automation—it's also a powerful tool for sales predictions. AI can predict future sales with surprising accuracy by analyzing past sales data and trends. This can help businesses better plan for the future, manage resources, and make data-driven decisions. For instance, if AI predicts a rise in demand for a particular product, you can adjust production schedules to meet this demand.
5. Craft Engaging Marketing Content
AI can also help create compelling marketing content that resonates with your target audience. By analyzing customer data, AI can help tailor content to suit individual preferences, making marketing efforts more effective. For example, AI can identify which types of content perform best with different audience segments, allowing you to create targeted campaigns that drive engagement and conversions.
Conclusion
AI provides a powerful combination of insight and automation that can elevate your design business. Think about the tedious tasks you handle daily, such as data entry, inventory tracking, or pattern recognition. AI can streamline these tasks, saving you valuable time. Automated inventory management systems, for instance, can predict when you need to reorder materials based on past usage patterns, saving you from the risk of running out of stock or overstocking. Furthermore, AI can track and analyze design trends, providing invaluable data without manual research. By understanding and harnessing AI's capabilities, you can automate these time-intensive tasks, gain a competitive lead, and keep up with industry innovations. Embracing AI is about more than just adopting new technology; it's about reshaping your operations for heightened efficiency and creativity.
Want to delve deeper into the world of AI? Join us for our webinar presented by Business of Home:

This unique immersive course demystifies AI and shows you how to leverage it in the home goods and interior design industries. The workshop provides a clear understanding of AI's fundamental concepts, terminology, and applications and offers hands-on experience with AI tools. Equip yourself with the knowledge and confidence to leverage AI in your day-to-day tasks and witness the transformative power of AI on your business.
P.S. In addition to utilizing AI's text tools, ultraviolet has created images in Midjourney. See our examples below. These assets have become design inspiration for our clients' communities on social. Stay tuned for ultraviolet's next blog on Midjourney prompt tips for designers and brands in the home space!